Best Hair Transplant clinics in Turkey (2023)
Turkey, a location that is right in the sweet spot intersection Europe and Asia in north southeastern Europe and western Asia, is a location that has significance for many - especially as new medical tourism continues to soar.
Turkey has become top destination for people looking to get a quality hair transplant for a good price. The medical procedures done in the country are lauded as some of the best - and the low cost medical procedures when compared to U.S. and European countries make Turkey a popular to get hair transplant.
Here is a list to get you started on your Journey. While there are so many other doctors in the region, here are some to contact if you're just starting out and have questions, or you're ready for a hair transplant, now!
Top 10 destinations for hair transplant in Turkey are listed below:
There are numerous hair transplant clinics located throughout the country that offer more than just somewhere to have the surgery done. Plentiful accommodations including post-op care, travel assistance, sightseeing and more - all make the trip a memorable and purposeful one.
Get your FREE personalised online hair transplant quote now!
Submit the short form below and our hair expert will get in touch with you shortly
Note - By clicking on 'SUBMIT' above you confirm that you accept the Terms of Use
Different procedures offered for hair transplants in Turkey and methods for the surgery include both Follicular Unit Extraction (FUE) and FUT, which are the most popular of all hair transplant procedures, These usually range in price from around $1.50 per hair graft -$ 4.70 per hair that is being transplanted from the donor location on the back of the scalp to the balding area.
What's special about the cost of hair transplants in Turkey is the price is usually calculated as a per session price and is not typically broken down into charging per unit of hair follicle extracted.
Medicine is so advanced as is infrastructure in the area, that they are able to keep up with and even exceed the expertise offered in the U.S. but for a much lower price.
And we're not just talking about hair transplants for the head/scalp area. New procedures involved in the hair transplant space are helping men to have fuller facial hair and beards and women to finally achieve the look of full eyebrows.
Reports note that especially in Turkey, there are men from other countries who are traveling to the area to have facial hair transplants by the masses currently.
And thanks to its strategic positioning, the region is a perfect place to attract tourists for this high yielding industry.
According to one report, "of the estimated 597,181 hair restoration procedures performed worldwide in 2016, Europe has witnessed the biggest increase in the number of procedures with 79,513 procedures performed in 2015 — a 70 percent increase from 2014."

Nimclinic Hair Transplant and Aesthetic Clinic
Nimclinic is the best option for those looking for a hair transplantation clinic, where they can get both an affordable and very good hair transplant result for those with limited budgets. It serves with medical aesthetic doctor, plastic surgery specialist, dentist and expert hair transplantation team. Also, it is a special clinic that gathers a specialist staff under one roof. Thanks to successful team, Nimclinic has successfully made it's name all over the world. Thanks to this success, Nimclinic hair transplantation and aesthetic clinic, which achieves 100% satisfaction rate, achieves results with excellent naturalness.

Enquire Now! »
HERMEST Hair Transplant Clinic
HERMEST Hair Transplant Clinic is surely included at the top of the best hair transplant clinic lists. HERMEST Hair Transplant Clinic that has gathered almost all international awards since 2002 continues its innovation work without giving a break. This clinic which is at the same time a German-based firm and uses the advantages of the technology guarantees the best service quality by creating dense and permanent hair transplant results for patients. The research shows that none of the patients of this clinic is dissatisfied with their process. With the Unique Slit technique that they have developed, they achieve an unprecedented 99% permanence ratio for hair transplant operations. Naturally, this increases 80-90% permanence ratio for normal hair transplant methods. The clinic still has 100% patient satisfaction success.

Hermest clinic has dermatologist, plastic surgeons and medical doctors. You will be able to get 100% support from doctors before and after hair transplantation. You can feel completely safe in this clinic.
Enquire Now!
HLC Hairline Clinic - Dr. Ötzan Özgür
The Hairline Clinic (HLC) in Ankara and Istanbul being successfully directed for many years by Dr. Ötzan Özgür is performing modern hair transplants on high-level standards. The spectrum of natural hair restoration services ranges from an aesthetically pleasing reconstruction of receeding hairlines, over hair transplant on complex scalp areas including the crown up to body hair transplant, which can be performed both on the scalp (BHT – Body Hair Transplant) as well as on body areas (body-to-body transplant) to achieve cosmetically satisfying results.

The pioneer for FUE and founder of the HLC Hairline Clinic Dr. Ötzan Özgür was one of the first physicians performing FUE hair transplant (Follicular Unit Extraction) in Turkey.

Being the medical director of the Hairline Clinic (HLC) Doctor Ötzan Özgür has started in 2002 to found the Hairline Clinic in Ankara for high-level hair transplants on patients worldwide regularly granting solid and substantial quality with outstanding results. As FUE – Follicular Unit Extraction has been characterized as the only minimally invasive technique for hair transplant ever since Dr. Ozgur has been one of the pioneers around Turkey and Europe to present scarless outcomes.
Enquire Now!
Dr. Mbaraka Ahmed Ljohiy - Sanantur Clinic
At the moment, Sanantur Clinic is the only Spanish company with its own hospital in Istanbul to perform hair transplantation. We offer the best service at the most competitive price to perform a hair transplant. Our medical team has more than 15 years of experience performing hair implants.
The daily effort of Sanantur Group is aimed at achieving two major objectives, the satisfaction of our patients and the quality of the service. This has led us to grow very rapidly, being published in various media, such as El Mundo, La Razón, Diario AS, La Sexta, Diario de Tarragona, Madrid Diario, Madrid Press, Diario de Sevilla, La Razón Newspaper, Antena 3, Europa Press, Critical Journal, etc.
Enquire Now!
Transmed Clinic
Transmed Clinic was founded in 1994 as the first hair restoration clinic in Turkey. The clinic specializes in hair restoration, dermatology, and plastic, cosmetic, and reconstructive surgery. The clinic also has its own research and development department, which has received support from the International Scientific Advisory Committee for its research on male pattern baldness. Since its establishment, Transmed Clinic has treated over 10,000 international patients from 47 countries. The clinic offers hair transplant package deals which include a consultation, hair transplant surgery, post-surgery medications, interpreter services, accommodation, and transfer to the clinic.
Enquire Now! »
Clinicana
Clinicana medical team offer a full range of cosmetic treatments. All treatments are supervised by fully qualified doctors backed up with pharmacists and nurses to prescribe the the most appropriate treatment for every situation. Our staff are fluent in many languages and offer a 24 hour follow up service, Located in Taksim Istanbul.
Enquire Now! »
Este Favor Hair Transplant
EsteFavor & Hair Transplantation offers the latest hair transplantation technologies to its clients and owes its global recognition to its excellent and natural results.

It is one of the pioneers of the boutique health service approach in Turkey. While providing personalized VIP service, it guarantees the most accurate planning, natural appearance, and high-density hair transplantation. EsteFavor provides high-quality service in the field of hair transplantation with its expert and successful team. It performs hair transplantation procedures in A +++ clinic with a JCI certificate and in a sterile operating room environment.
Enquire Now! »
Dr T Hair Transplant Clinic - Osman T Oguzoglu, MD
Dr. Tayfun Oguzoglu, born in 1965, did his PhD in 1990 at the Gazi University in Ankara.Since 1996, he has performed more than 7,000 surgeries and thus he is one of the leading specialists in this field in Turkey. During his career he has attended numerous courses in the field of hair transplantation, including in United States. Since 2005, the Dr. Oguzoglu uses modern FUE technique (latest version of FUE), which makes it possible to transplant large areas, without leaving scars. Dr. Oguzoglu is a ??member of the ISHRS (International Society of Hair Restoration Surgery) since 2007 and takes part each year in conferences they hold. He also attends in their training sessions as a trainer. Since 2010 he has been working in the hair clinic of the Medistate Hospital in Istanbul. Dr. Oguzoglu is father of a son and in his spare time he likes to go sailing or on short trips as a family man. He believes that honesty is the reason of his achievments.The hair clinic of Dr. Oguzoglu is located on the 8th floor of the Medistate hospital in Kavacik, a modern, private hospital on the Asian side of Istanbul.
Enquire Now! »
Asmed - Koray Erdogan, MD
Born in 1968 in Bursa-Gemlik (Turkey), Dr. Koray Erdogan attended Bursa Anatolian High School and later, Hacettepe University where he earned his medical degree from the Faculty of Medicine. After completing his compulsory military service, he began the practice of medicine as an assistant at Marmara University's Department of Thoracic Surgery. In 2001, he founded his own hair transplant clinic, and at the same time, participated in numerous conferences and seminars in Europe and the United States. By 2004, he had developed his own unique FUE system known as the "Sequential Technique" that has since been evidenced in forums and international publications. Additionally, he validated and demonstrated this technique in numerous international congresses and workshops such as in Spain, Italy, Malaysia and India. Dr. Erdogan exclusively performs FUE hair transplants at the ASMED Surgical Center, his personal clinic, together with six other physicians who are specialists in their respective fields.
Enquire Now! »
AHD Clinic - A. Hakan Doganay, MD
Doctor Hakan Doganay has been doing hair transplantation since 2002. He specialized in hair transplantation as well as BHT (body hair transplantation – using hair from various parts of the body such as the beard and chest to restore hair to the scalp) eyebrown and beard transplantation (from beard to beard and from hair to beard) with the help of Choi Hair Transplanter / implanter Pen technique. In this technique, Dr Hakan Doganay uses small pen needles which have diameters of 0.6mm , 0.7 mm , 0.8 mm for planting grafts into recipient sites. There are many advantages of this technique such as patient's recovery is faster and the result is natural since there is no opening a channel for the grafts in the recipient area.
Enquire Now! »
Resul Yaman, MD
Dr. Resul Yaman was born in 1982 in Istanbul, Turkey. Dr. Yaman graduated from Istanbul University, Cerrahpasa Faculty of Medicine in 2005. While he was studying at the university he started to search about the subject because of his hair loss problem.After gratuation, he started to work as an assistant at a hair transplantation clinic.He had his hair transplantation surgery in 2007. Dr. Resul Yaman has performed exclusive hair transplant, facial hair transplant and eyebrow transplant surgery at his own clinic in Istanbul since 2009.He has more than 6 years of experience in the field of hair restoration surgery. He is committed to staying active in this field through ongoing education and incorporating the latest advances into his practice. Dr. Yaman is an active member of International Society of Hair Restoration Surgeons (ISHRS), the world's largest organization of hair restoration surgery. He uses Modified Micromotor FUE technique.
Cost of Hair Transplant in Turkey
Getting a hair transplant involves not only committing to undergoing a surgical procedure, but also investing financially to have the hair transplant and any pre and post care done. While the cost of a hairtransplant can vary from location to surgeon requests - the biggest way people are saving on the cost of a hair transplant today is by traveling outside ofthe U.S.
Europe is a top, trusted to location people are heading to - particularly Turkey, where numerous surgeons skilled in hair transplants and enticing accommodations are making it a hub for medical tourism.
Not only are things like the surgeon, location and number of visits needed, key in coming up with the total cost of a hair transplant, but another important factor is the kind of hair transplant a patient will be getting. There are various types of procedures and methods of both extracting and transplanting the hair follicles and no patient will have the same need.
FUE and FUT are the most popular hair transplant procedures and they typically range in price for around $1.50 per hair graft -$ 4.70 per hair that is being transplanted from the donor location on the back of the scalp to the balding area.
This price can be further reduced or increased based on automated procedures versus those that have to be done slowly and manually. There is then also the cost of medicine and transportation and hotel stays (if your clinic doesn't offer it) to calculate into the budget.
What's special about the cost of hair transplants in Turkey is the price is usually calculated as a per session price and is not typically broken down into charging per unit of hair follicle extracted.
For anyone who has a larger area needing coverage, turning to the FUT method can help grab and transplant more hair follicles in each session with the surgeon than those who must carefully hair smaller hair units removed and transplanted.
Also, the cost of any medical procedure can be far less outside of the U.S. due to how medical insurance plans and coverage are set up. Because it is considered a cosmetic surgery, the prices can skyrocket well about the thousands of dollars mark.
Since all of these factors will take a toll on your bill - it's important to always set up a consultation first - you might even be able to get it done for free - so you can talk to the actual doctor about what you will need in your particular case, and what the prices and any amenities offered may be.
Hair transplant in Turkey - per graft comparison of hair transplant cost

Cost of hair transplant in Turkey
Number of hair grafts
Average Low Cost
Average High Cost
No of Sittings Required
(1 sitting = 3 to 8 hours )
500 - 1000 Hair Grafts
$1500/-
$3000/-
1
1000 - 1500 Hair Grafts
$2800/-
$3800/-
1
1500 - 2000 Hair Grafts
$3000/-
$4500/-
1 - 2
2000 - 2500 Hair Grafts
$4200/-
$5500/-
1-2
2500 - 3000 Hair Grafts
$5100/-
$6500/-
2
3000 - 3500 Hair Grafts
Get a FREE Quote
Get a FREE Quote
2
Disclaimer: The hair transplantation cost shown above is an approximation and may vary from clinic to clinic.
The main factors that can influence hair transplant costs include:
The density required for transplant:
Most hair transplants provide 35-40 grafts per cm2. The number of grafts provided will depend on how bald a person may be coming into the surgery.
Total number of grafts required:
Depending on the side of the area that requires grafts you can sometimes be charged on a per graft basis for the surgery.
The technique:
Different techniques may need to be used in order to insert multiple hair follicles per graft or utilize one of two methods for the surgery. The traditional method for implanting the hair follicles called FUT usually costs between 1-1. 5USD per hair graft whereas the advanced stitch less procedure known as FUE can cost between 2-4.5 USD per graft. The second procedure technique can produce a faster recovery time and a much more natural look but it does cost considerably more.

The qualifications of the physician:
The operating doctor for hair transplant surgery should be a qualified plastic surgeon that has many years of experience in the industry. If a doctor comes highly recommended and highly in demand from many travellers and locals they can often command a higher price for their services. As well as the experience that a doctor can provide, the quality of their results also come into consideration. If a doctor has performed quality work in the past and they can reference a number of excellent and natural looking surgeries that they have performed, they can often command a higher price as well.
The Procedure Of Hair Transplant in Turkey
The most popular hair transplant methods are: Follicular Unit Hair Transplants (FUT) and Follicular Unit Extraction (FUE). Both methods involve follicular transplant, meaning follicles are extracted from donor area and transplanted in the recipient area; but the way follicles are extracted and transplanted is different in each case. Hair follicles are taken from patients themselves, mostly from the backside of the scalp.
In FUE, individual follicles are extracted from the donor area and transplanted to the recipient area one by one; whereas in FUT, also known as strip method, a strip of hair follicles is taken out from the donor area and transplanted on the area with baldness. Strip method is regarded as the golden standard in hair transplant because it has higher success rate; however, this procedure results in a linear scar on the donor area.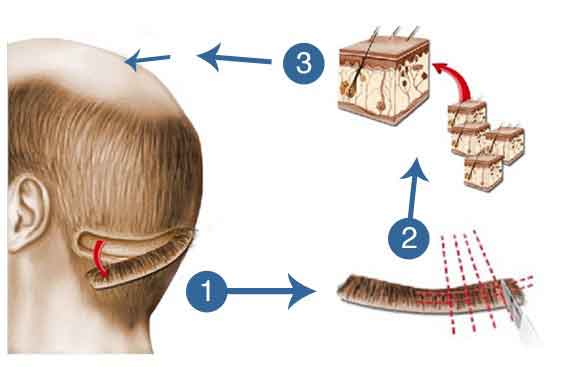 FUT method is simple and cost effective because it involves less number of incisions on the scalp. A single strip may be used to implant a large number of grafts, up to 5000 or more. This method is better for treating extensive baldness covering large areas on the scalp. Compared to FUE, FUT involves less blood loss and pain. The procedure can be completed much quicker than FUE. Also, in FUE the chances of hair follicles getting damaged are also less because donor area suffers from less shock from the surgical procedures. Another advantage of FUE method is that donor area need not be shaved, so there will be no disfigurement of the existing hair as the donor area will be easily covered by existing hair surrounding it.

The only drawback associated with strip method is that it leaves large scars on the scalp. Of late, several treatments are offered in conjunction with FUT transplant to minimize post-op scar on the scalp. FUT is carried out only by experienced FUT practitioner. Good infrastructure and experienced technicians are required to conduct this process successfully.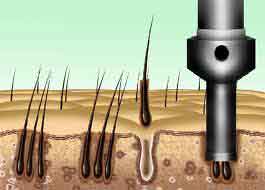 Follicular Unit Extraction (FUE) is more advanced than FUT, but is still not the preferred choice of many because of the cost and efforts involved in it. FUE involves extraction of individual follicles from the donor area and transplanting it in recipient area. The process is tiresome to both patients and surgeons. Even a highly experienced surgeon can implant only between 500 and 1500 grafts daily. For complete graft, one has to undergo the procedure multiple times. Each time when the follicle is extracted from the donor area, it has to be shaved, so the patients will suffer from disfigurement of their hair.

Of late, robots-assisted FUE therapies are gaining popularity. Robots such as ARTAS simplify the procedure by actually lining up the cutting instrument with the follicular unit. It successfully extracts the follicular unit by going dead center, reducing any damage to the follicle itself. With these methods, efforts of physicians and patients are reduced.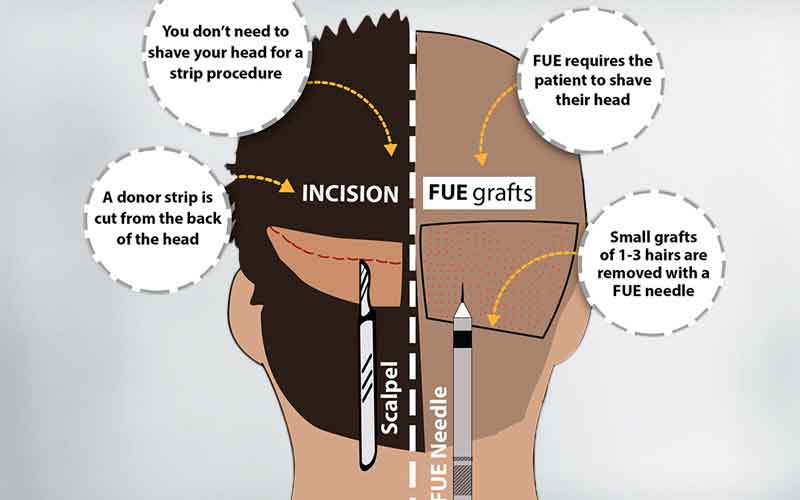 Both FUT and FUE are found to be effective in treating androgenic alopecia. While FUT method is especially useful for patients with big bald patches, FUE methods are ideal for patients who don't like to carry the permanent scar mark on their hair.


Benefits of Getting a Hair Transplant in Turkey
Getting a
hair transplant
is a big decision in the life of someone who has lived with the shame or anguish involved in hair loss. Deciding the end the embarrassment and torment and selecting a hair transplant surgery can be a life changing matter. But after the decision is made, many are finding the next part gets even harder. Particularly in the U.S. where health care coverage is on the fence, rates are higher than ever and a shortage of doctors to perform certain procedures is the reality.
For these reasons, and others, medical tourism is on the rise. This means people are traveling to distant locations in search of doctors who are more better, more available and sometimes even better skilled than what is an option State-side.
Turkey has become a leading
destination for hair transplant surgery
,. Below are 10 reasons why you should consider Turkey for the best hair transplant surgery experience.
Location
Since Turkey sits in the middle of both Europe and Asia, the access to the region is easy for many and won't depend solely on landing in one specific area to get to your hair transplant clinic. This flexibility takes hassle out of planning a trip.
Comparable Procedures
Just like in the States, surgeons in Turkey study the hair
transplant procedures (FUE, FUT)
being developed and can offer the same skilled surgeons for those looking to have a hair transplant.
Cost Savings
Costs for procedures can vary from place to place or dependent upon insurance coverage in the States, overseas these same rates and guidelines don't exist so there is much less hassle, and many times much less cost involved for the patient.
Friendly Atmosphere and Culture
Known for their hospitality and welcoming generosity, Turkish people have accommodate to many travelers and tourists over the years and have seen a recent sharp increase in medical tourists of late.
Immediate Service
Waiting lists are something unique to the U.S. healthcare system and have grown with recent changes to coverage. But in Turkey and other places overseas they almost don't exist. If a patient goes in for a procedure chances are it will happen soon - not months later.
Advanced Tools and Technologies
Some of the tools not readily available, approved or developed for use in the States are already being used in European and Asian procedures. They may be accessed by surgeons in Turkey so they can offer optimal procedures and care.
A Pool of Skilled Surgeons
So many doctors practicing abroad have dedicated their studies to specialized areas of medicine and have learned the skills needed to perform tasks like hair transplants to address varying patient needs.
Free Perks
Since competition is this popular hair transplant destination is stiff, the added bonus for patients is a number of perks offered. This can include free hotel stays, travel reimbursements, even free transportation to and from the clinic.
A reason to travel
Who doesn't love a reason to go on vacation? Turkey is a beautiful place, and its surrounded by many other popular tourist destinations. If you're already shelling out the money for a ticket overseas why not plan a vacation around it and really get a great bang for your buck.
Posted in
Hair Transplant
by:
Sang Ale
2018-10-03 | Hairfear
Facts about Turkey
Map of Turkey
Images Around Turkey
| | |
| --- | --- |
| The Lion Gate at Hattusa | The Hagia Sophia |
| Turkish Riviera | Mevlana Museum in Konya |
| The Blue Mosque | Whirling Dervishes of the Mevlevi Order |
Images courtesy of Wikipedia