Dr. Tayfun Oguzoglu - Hair Transplant Surgeon in Istanbul, Turkey
Sponsored by gethair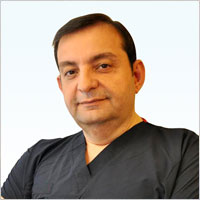 Dr. Tayfun Oguzoglu
Istanbul, Turkey

» Active member of the ISHRS

» More than 20 years of experience


Dr. Tayfun Oguzoglu
Dr. Tayfun Oguzoglu, born in 1965, did his PhD in 1990 at the Gazi University in Ankara.Since 1996, he has performed more than 7,000 surgeries and thus he is one of the leading specialists in this field in Turkey. During his career he has attended numerous courses in the field of hair transplantation, including in United States. Since 2005, the Dr. Oguzoglu uses modern FUE technique (latest version of FUE), which makes it possible to transplant large areas, without leaving scars.

Dr. Oguzoglu is a ??member of the ISHRS (International Society of Hair Restoration Surgery) since 2007 and takes part each year in conferences they hold. He also attends in their training sessions as a trainer.

Since 2010 he has been working in the hair clinic of the Medistate Hospital in Istanbul.

Dr. Oguzoglu is father of a son and in his spare time he likes to go sailing or on short trips as a family man. He believes that honesty is the reason of his achievments.

The hair clinic of Dr. Oguzoglu is located on the 8th floor of the Medistate hospital in Kavacik, a modern, private hospital on the Asian side of Istanbul.

Due to its central location, the hospital is within easy access to both airports of the city. One of the two bridges which connect the two sides of Istanbul, the Fatih Sultan Mehmet Bridge, is only five minutes away, which means you can either make a trip to the European side to visit the cultural sites of the city or alternatively stay on the Asian side with its shopping centres and restaurants.

Our personal service for you includes English speaking assistance before, during and after your treatment, as well as the airport pick up, all transfers to and from the clinic, as well as the accommodation in a five star hotel in Kavacik, close to the hair clinic.


Why should you go to Istanbul for my hair transplantation?
In many countries a hair surgery can be done in a physicians practice. In Turkey this is not allowed and the transplantation has to be done in the surrounding of a hospital. This guarantees you the best possible medical care from a trained physician. Turkey is one of the leading countries in the field of hair transplantation and Dr. Oguzoglu is a specialist in his field with many years of experience. The value for money is better than in most European countries due to the low labour cost in Turkey. On top of that you will have the opportunity to visit one of the most beautiful cities in Eastern Europe which was only recently voted Cultural Capital of Europe.