Dr. Mehmet Demircioglu; Your Surgeon for the Hair Transplant Operation in Turkey Istanbul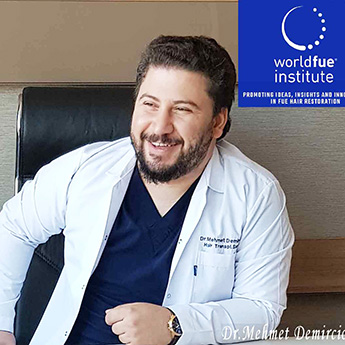 Dr Mehmet Demircioglu was born in Istanbul, Turkey and graduated from Istanbul University Cerrahpasa Medical Faculty. After his medical faculty graduation, Dr Demircioglu began to work with pioneer and re-known hair transplant surgeons to complete his education of the hair transplant field. As part of his training, Dr Mehmet Demircioglu has been in Netherland as observer hair transplant surgeon and trained for Fue Hair Transplant operations. In the past, Dr Mehmet Demircioglu conducted many published research about genetic of male pattern baldness. In 2012, Dr Mehmet Demircioglu found "Diamond Hair Clinic" and since this time performed over 3000 successful fue operations. "Diamond Hair Clinic" is located on the 9th floor of the "Istinye University Medical Park Hospital". The modern, private, JCI Accredited University Hospital on the European side of Istanbul. Particularly "Sapphire Fue" is his main expertise area in the hair transplant field. Since 2016 he has been using only "Sapphire Fue" technique for his patients. Every year Dr Mehmet Demircioglu organize workshops about Sapphire Fue operation technique for other surgeons. Dr Mehmet Demircioglu is an active member of "World Fue Institute" (WFI), the world's most prominent society of Fue Hair Restoration Surgery. Accepting only one patient for a day and as much as possible high number of hair graft implantation are the most distinctive feature of Dr Demircioglu and Diamond Hair Clinic. With this approach, the doctor has been providing top-tier quality operations in many years. According to Dr Mehmet Demircioglu, every hair transplant operation has to be unique for the patient and not must be industrial. Because of these reasons Dr Mehmet Demircioglu accepts only one patient a day.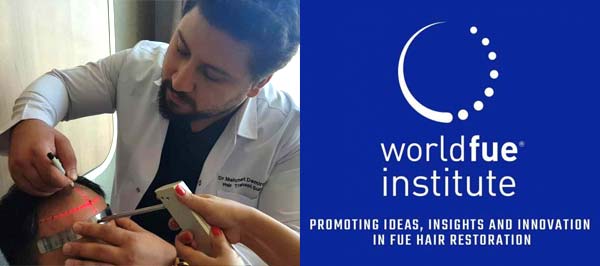 Best Hair Transplant Surgeon in Turkey Istanbul Fue and DHI
Hair Transplant in Turkey Istanbul becomes the most phenomenal medical tourism subject in the world. According to official statistics, everyday 8000 peoples come to Istanbul Turkey for the hair transplant operation. If walk the most famous streets in Istanbul, can see a lot of operated hair transplant patients. Patients definitely should stay away from unknown cheap hair transplant clinics. Turkish hair transplant surgeons have massive experience in hair transplant operations. Patients should choose carefully right hair transplant doctor and reliable hair transplant clinic. Hair Transplant operation needs surgical discipline and sterile work conditions, and it has to perform by experienced surgeons, not nurses or technicians. Sapphire Fue Technique is the most advanced hair transplant operations technique in the world. In this technique, the surgeon uses a sapphire blade for opening micro-channels (incisions) on recipient area. Dr.Mehmet Demircioglu leads Sapphire Fue Technique in Turkey. Sapphire Fue Technique has some advantageous; more much density, the faster healing process and natural growth directions.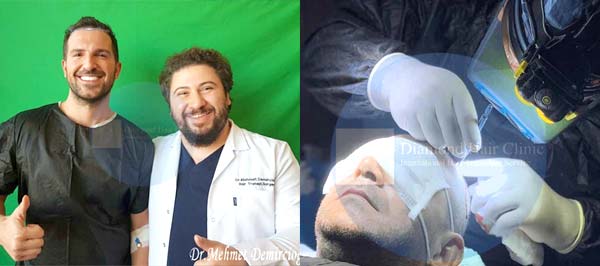 Why choose Dr.Mehmet Demircioglu ?
Full and healthy hair is an essential feature of beauty that radiates youthfulness and vitality. If it comes to hair loss, it is therefore considered by many affected persons as very stressful. However, there is no reason to be concerned, because modern plastic-aesthetic surgery offers both, for men and women various innovative hair transplant procedures that are as gentle as effective. Diamond Hair Clinic collaborates with the renowned specialist in hair transplants Dr.Mehmet Demircioglu which ranks among the top experts in the field of hair transplants. Dr Mehmet Demircioglu was one of the first doctors from Turkey and Europe who used the FUE technique. His whole medical team has the necessary experience, competence and passion for their work. Because of the use of the Sapphire Fue technique, it is possible to guarantee a growth of 90% for the implanted hair.
FREE CONSULTATION

FREE

English, Arabic, French, Spanish Languages Consultation

Send Your Head Photos Four Side (Front-Back-Side-Up)

Our Clinic Doctors Evaluate Your Head Photos and Hair Type

In Just 5 Minutes You Will Receive a Response



CONTACT US NOW »

FULL PACKAGE

F.U.E

Maximum number of grafts with the FUE method

3 Nights 5-Star Hotel Accommodation in Taksim

VIP Transport with Mercedes Vito

Shampoos and foam needed for implanted hair.

Free consultation and washing after surgery



CONTACT US NOW »

FULL PACKAGE

DHI

The maximum number of grafts with the DHI method

3 Nights 5-Star Hotel Accommodation in Taksim

VIP Transport with Mercedes Vito

Shampoos and foam needed for implanted hair

Free consultation and washing after surgery



CONTACT US NOW »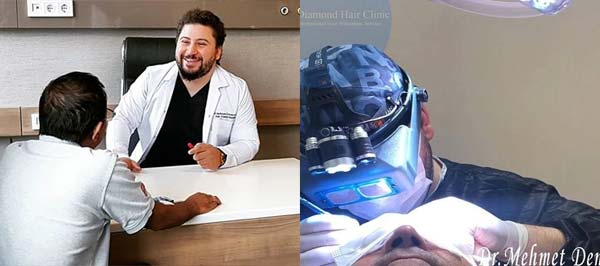 SERVICES
FUE Hair Transplant
Follicular Unit Extraction, in other words FUE, is the latest technique in the world and Turkey, that allows us get naturally good results in hair transplant operations. Like all hair transplant operations, FUE is the operation where the live follicles are taken from the donor area and transferred to the recipient (balding) area. Unlike FUT method, Follicular units (grafts) are taken directly one by one from the lower parts of the skin by the help of special punches with micro-motors and the latest technology. This method is also known as "non-invasive hair transplant" In FUE, scalpel tool (stitching) is not used in donor areas. There is no mark left where the follicles have been taken. It helps people who is in trouble with baldness to regain their hair without any complication and disruption from their daily life. Whereas taking method of follicles are different from each other, the replacement method of acquired follicles are totally same in FUE and FUT techniques. As a leading health group, our corporation unite modern aesthetic surgery with art, providing many solutions to the people with hair loss problems. It leaves all other methods behind with its naturally nice results with the help of handy micro-motor punch in hair transplant operations.
DHI Transplant
When extraction technique was applied for the first time as a hair transplant technique, extracting follicles and implanting them was done using simple manual tools. Later on, the procedure was accelerated by introducing a machine known as "micro motor" that was used during extracting follicles step and implanting follicles. This instrument allowed doctors to transplant more follicles by improving the extraction process. Nevertheless, micro motor has many disadvantages when using it to implant follicles. Currently, a new technique has been introduced, it depends on a new type of tools: transplant using (Choi implanter pens).
FUT Transplant
Once we begin to lose hair and the degree of balding increases with age, this ultimately motivates most of us to look for a solution. While certain shampoos or medications used to prevent the hair loss may prove effective to some extent, it is impossible to restore hair to its original state through these measures only.

Eyebrow Transplant
Eyebrow is a very characteristic part of human face. It is often said that our eyes reveal our emotions and thoughts as they are one of the most important ways we have of expressing ourselves. However, our eyes are not the only means of expressing ourselves, eyebrows also serve a significant social function, as it helps people in expressing themselves to others.

Several reasons such as removing eyebrow from the same area for a long time, some skin diseases, permanent makeup, chemotherapy may cause eyebrow hair loss.

Eyebrow transplantation is required when eyebrows do not grow back in 1-2 years.

Eyebrow transplant operations are performed to restore lost hair on eyebrows.

With an eyebrow operation people may get back their natural looking and intensive eyebrows.

Diamond Hair Clinic eyebrow operations are performed by FUE technique same as other hair transplant operations.
An affordable price without sacrificing safety or quality
A hair transplant procedure in Turkey will typically come in under €2,500, compared with around €12,500 in the UK, and as much as €25,000 in the US. And lets not forget that this price also includes a private chauffeur to and from the airport, to and from the procedure, a personal translator throughout to assist you and the icing on the cake: a stay in a luxury 5* hotel.

Anybody would be forgiven for thinking that deal seems almost too good to be true. There must be some catch or risk. But the truth of the matter is, do your research and choose the right hospital and doctor with the right accreditations, and this is the price you will pay.

One of the biggest reasons for the low price comes down to the currency exchange rate. Turkish Lira does not perform well against the euro, the dollar or sterling.

Added to that the fact that salaries and facilities are simply a lot cheaper in Turkey, and the fact that the competition, particularly in Istanbul, is pretty fierce and you are bound to get the highest standards for the cheapest price.
Elite World Istanbul Hotel - 3 Nights 5 Star Hotel