Top 10 Destinations for Hair Transplant in India (2023)
India is becoming a hot destination for hair transplant. The country, which is widely known for cost-effective medical procedures, offers affordable hair transplant surgeries and treatment options. The rising healthcare costs in western countries contribute for the growth of hair transplants in countries like India. Several hair transplant clinics in India now offer the service as 'medical tourism package' which covers other facilities like travel, accommodation and sight seeing, in addition to post-op care.

Estimates say that the cost of hair transplant in India is about 20-25 percent of the cost of hair transplant in western countries like the Europe or America. For example, on an average, hair transplant surgeries in the U.S or Europe cost $4 to $9 per graft, but if the same procedure is done in foreign countries like India, it may cost between $1 and $1.5 per graft.
Top 10 destinations for hair transplant in India are listed below:
While the above list is not conclusive in terms of the services offered or the cost of the procedure, you can still shop any one of these for your hair restoration needs while in India. In addition to the specialized hair transplant clinics in India, you will get hair transplant service from reputed hospitals as well. Many of these hospitals here have well-qualified surgeons who have got international exposure.

Hair transplant in India uses advanced procedures like FUT (strip method) and FUE (follicular method). The surgeons are qualified to serve different types of clients. Hair transplant centers in India, especially those located in crowded cities like Mumbai, Delhi and NCR, Bangalore, Chennai, Ahmedabad, Kolkata, Chandigarh, Pune and Hyderabad are equipped with the most advanced hair transplant equipments in the industry.
As a top destination for hair transplant, India is attracting several tourists. This helps improve the economy of the country. Eyeing this opportunity, hospitals and hair transplant clinics in India are setting up advanced facilities to meet the requirements of foreign customers.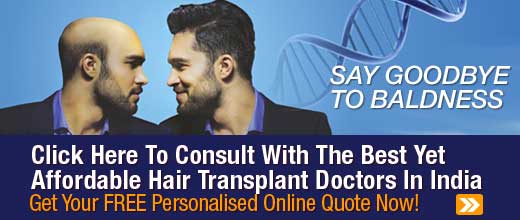 Dr. Ashutosh is one of the best hair transplant surgeons in Delhi. He is an MCh in Plastic Surgery and is associated with EnhancedMed+ as a senior surgeon. Specializing in Hair Transplantation and Advanced Cosmetic and Reconstructive Surgery, he combines his technical knowledge and surgical precision with aesthetic skills to deliver the most natural-looking results for his patients to complete satisfaction Enquire Now!
DermaClinix, one of the top-ranked hair transplant and skin clinics in Delhi/NCR, is run by renowned dermatologists of Delhi - Dr. Kavish Chouhan (MD-AIIMS, MISHRS-USA) and Dr. Amrendra Kumar (MD-AIIMS, MISHRS-USA).
DermaClinix is the ultimate choice for you to get a safe and cost-effective Hair transplant in Delhi. It is amongst the best hair transplantation center in Delhi, They have the best surgeons in Delhi, who deal with all the skin and hair types, and give their best each time. They believe that everyone is unique and so his body; and thus, they strive to put all their efforts in giving the best possible treatment. DermaClinix is known for its outstanding skin & hair transplant clinic in Delhi and care procedures, advanced transplantation techniques, heart-touching services and assuring guidance as well. DermaClinix is a popular clinic of Hair Transplant in India treating the people all over the globe. Enquire Now!
Medispa Laser, Cosmetic & Hair Transplant Center, Jaipur & Delhi, India is a pioneer organization in the field of Hair Transplantation. It was established by internationally renowned Cosmetic Surgeon Dr Suneet Soni in 2005.
Medispa Laser, Cosmetic & Hair Transplantation Centre is internationally recognized for providing world's best aesthetic Hair Transplantation and other Cosmetic Surgery Services under one single roof globally. Our clinics are equipped with state of the art infrastructure with the world's best technologies. At Medispa, UK standard hygiene is maintained to provide a most hygienic environment to our esteemed clients. For Hair Transplant Surgery, there are separately dedicated operation theatres to minimize the risk of infection. Enquire Now!
Dr. Gaurav Garg, Director of Dermalife, is one of the few certified dermatologist in Delhi who is internationally recognised. An MD in Dermatology from prestigious Seth GS Medical College and KEM Hospital, Mumbai, Dr Gaurav Garg is among the leading skin specialist in Delhi. He is a Certified Hair Transplant Surgeon in Delhi (by Dr Alex Ginzburg, Israel, former President and Member of International society of Hair Restoration surgeons).
Dermalife is a centre of excellence for treatment of all your hair, skin and nail problems. Our best dermatologist in Delhi, Dr Gaurav Garg leads the team of specialists, technicians and support team who work continuously to make your experience truly remarkable. The clinic with its team of best skin specialist in Delhi is housed with imported equipment and instruments from US, UK and Germany. You can know more about our dermatologist and hair specialist for baldness treatment by contacting our clinic in Green Park, New Delhi Enquire Now!
Dr. Satya K. Saraswat is a Gold Medalist Plastic Surgeon, honoured by The Health Minister of India. He holds active membership in the following professional organizations: Association of Surgeons of India, Association of Plastic Surgeons of India, Indian Medical Association, Indian Association of Cosmetic Laser, International Society of Aesthetic Plastic Surgery (ISAPS), Member- International Society of Hair Restoration Surgeons (ISHRS), IFATS (International Federation of Adipose Therapeutics & Science).His areas of specialization and surgical expertise include a full range of procedures for the aging face, complex cosmetic and reconstructive surgery of the breast, body contouring, rhinoplasty. He holds the license of Dubai Health Authority as plastic and cosmetic surgeon and thus works in the same capacity in Dubai too.
Working in the office and the operating room he ensures our patients receive the best care before, during, and after their surgery. The experience of caring for trauma patients and working to correct severe traumatic facial injuries sparked his initial interest in plastic surgery. His creativity, entrepreneurial and leadership skills have greatly contributed to the expansion and success of Plastic Surgery. Enquire Now!
Dr Anuj Saigal is a highly skilled and renowned Hair Transplant Surgeon of Delhi. He is the Founder and Director of MedRootz Clinics,Green Park, New Delhi . He is well known for his services in hair and skin and has performed over 3500 successful Hair Transplants till datedue to which he has been proclaimed as one of the best hair transplant surgeons in India. For his contribution in the medical field he has been Awarded most trusted Hair Care Brand of the year 2022 which was presented to Medrootz clinic. He is a Member of Indian Association of Dermatologists, Venereologists and Leprologists, he also has multiple publications in journals and articles in various newspaper like - Times of India, Guardian, Deccan Herald, he has also enrolled for the membership of Association of Hair Restoration Surgeon (AHRS)- India. He has done his Under graduation from The Tamil Nadu Dr MGR Medical University, Chennai in 2008 and finished his Post-Graduate MD -Dermatology, Venereology & Leprosy in 2013.
Enquire Now!
AK CLINICS has a team of highly trained doctors & who are dedicated to field of hair restoration. The team is ably led by Dr. Kapil Dua MBBS, MS., along with Dr. Aman Dua, MBBS, MD and Dr. Nirav Desai, MBBS, DNB(Skin & VD) The team has permanent inhouse technicians who are well experienced. The aesthetic plastic surgery is support by Dr Lokesh Kumar, MBBS, MS, MCh.
The clinic has its own training program for new team members where they are trained over models for a minimum of 6 months before being allowed to work on patients. We have a seasoned team of hair transplant counselors and relationship managers ably led by our CEO Mr. Aman Bansal. Enquire Now!
Clinic Dermatech was conceptualized in 2006, to create India's first state-of-the-art skin and hair clinics by introducing the world's best aesthetic technology. The brand has managed to stay true to this mission by innovating as well as transforming its processes, refining services and utilizing the most advanced technology to ensure maximum customer satisfaction. Enquire Now!
Dr. Arvind Poswal,an inventor, an artist, a perfectionist and a teacher is popular among his patients and peers alike. He completed his medical studies from the prestigious Armed Forces Medical College, Pune (India). He is from an army background. His grandfather and father both were in the army and received several decorations and awards while taking part in many wars ranging from the World War 1, World War-II and 1971 war.

Over the past almost 20 years (since 1997), he has contributed immensely in the field of hair transplant, whether it is technique, instrumentation or training. Enquire Now!
Dr. Sunil Arora has over 15 years experience in cosmetic treatments and has been serving in the field of plastic and reconstructive surgery since 2001. He has won numerous awards during his career, most notable being the Best Plastic Surgeon of Rajasthan award in 2014.

At present, Dr. Sunil Arora is working as Sr. Consultant Plastic Surgery at CK Birla Hospital, Jaipur. Previously, he worked as an accomplished Consultant with Santokba Durlabhji Memorial Hospital, a well renowned Hospital & Charitable Trust at Jaipur. He is committed to attaining finest results for his patients by providing the best treatment and adequate care to them in Jaipur, Rajasthan. His dedication and commitment makes him one of the best plastic surgeons in India. Enquire Now!
What is the Hair Transplant Cost in India?
There are a number of things that can dictate the price of a hair transplant in any procedure. This is why it is so difficult to obtain an exact price for a full hair transplant procedure. While the price of the procedure may vary from person to person there are cost savings to be had simply for travelling out of the country to get a quote for your hair transplant procedure in India.

Travelling to a city like Mumbai, Goa, Bengaluru, New Delhi or Agra could help you to compare costs among local providers as well. Many hair transplant clinics that are located outside of these major cities or away from tourist areas may offer greater discounts even still. The main factors that can influence hair transplant cost in India include:
The density required for transplant
Total number of grafts required
The technique
The qualifications of the physician
Cost of hair transplant in India
Hair transplant in India - per graft comparison of hair transplant cost

Cost of hair transplant in India
Number of hair grafts
Average Low Cost
Average High Cost
No of Sittings Required
(1 sitting = 3 to 8 hours )
500 - 1000 Hair Grafts
Rs.30,000/-
Rs.45,000/-
1
1000 - 1500 Hair Grafts
Rs.45,000/-
Rs.67,500/-
1
1500 - 2000 Hair Grafts
Rs.60,000/-
Rs.90,000/-
1 - 2
2000 - 2500 Hair Grafts
Rs.75,000/-
Rs.1,12,500/-
1-2
2500 - 3000 Hair Grafts
Rs.90,000/-
Rs.1,35,000/-
2
3000 - 3500 Hair Grafts
Get a FREE Quote
Get a FREE Quote
2
Disclaimer: The hair transplantation cost shown above is an approximation and may vary from clinic to clinic.
Hair transplant methods in India - FUE Vs FUT
In FUE, individual follicles are extracted from the donor area and transplanted to the recipient area one by one; whereas in FUT, also known as strip method, a strip of hair follicles is taken out from the donor area and transplanted on the area with baldness. Strip method is regarded as the golden standard in hair transplant because it has higher success rate; however, this procedure results in a linear scar on the donor area.

FUT method is simple and cost effective because it involves less number of incisions on the scalp. A single strip may be used to implant a large number of grafts, up to 5000 or more. This method is better for treating extensive baldness covering large areas on the scalp. Compared to FUE, FUT involves less blood loss and pain. The procedure can be completed much quicker than FUE. Also, in FUE the chances of hair follicles getting damaged are also less because donor area suffers from less shock from the surgical procedures. Another advantage of FUE method is that donor area need not be shaved, so there will be no disfigurement of the existing hair as the donor area will be easily covered by existing hair surrounding it.

Of late, robots-assisted FUE therapies are gaining popularity. Robots such as ARTAS simplify the procedure by actually lining up the cutting instrument with the follicular unit. It successfully extracts the follicular unit by going dead center, reducing any damage to the follicle itself. With these methods, efforts of physicians and patients are reduced.
Hair Transplant India: Pro and Cons
Pro
Like any surgery, there are pros and cons, and benefits and risks associated with having the procedure done. For many the desire to no longer have a bald scalp can far outweigh concerns over scaring or costs that may worry others.
Better Looks
A Permanent Solution
Improved Self-Esteem
Cost Savings
A Natural Appearance
Cons
While a hair transplant surgery is a fairly easy procedure, there are minor complications or side effects that can occur so its important to prepare yourself in advance. Here are 10 side effects:
Infections
Itching
Scarring
Thinning
Bleeding
Posted in
Hair Transplant
by:
Sang Ale
1-21-2023 | Hairfear