Dr. Satya Saraswat
Gold Medalist Plastic Surgeon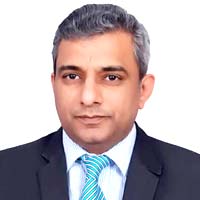 Our Medical Director, Dr. Satya K. Saraswat, is a Gold Medalist Plastic Surgeon, honoured by The Health Minister of India. He holds active membership in the following professional organizations: Association of Surgeons of India, Association of Plastic Surgeons of India, Indian Medical Association, Indian Association of Cosmetic Laser, International Society of Aesthetic Plastic Surgery (ISAPS), Member- International Society of Hair Restoration Surgeons (ISHRS), IFATS (International Federation of Adipose Therapeutics & Science), Diplomate : American Board of Hair Restoration Surgery (ABHRS).His areas of specialization and surgical expertise include a full range of procedures for the aging face, complex cosmetic and reconstructive surgery of the breast, body contouring, rhinoplasty. He holds the license of Dubai Health Authority as plastic and cosmetic surgeon and thus works in the same capacity in Dubai too.
Working in the office and the operating room he ensures our patients receive the best care before, during, and after their surgery. The experience of caring for trauma patients and working to correct severe traumatic facial injuries sparked his initial interest in plastic surgery. His creativity, entrepreneurial and leadership skills have greatly contributed to the expansion and success of Plastic Surgery.
Dr Satya Saraswat has done Hair Transplant for many Bollywood actors. Watch Videos below:
BEST HAIR TRANSPLANT IN INDIA
By nature everyone wants to look good – "nothing tastes as good as looking good feels". What if baldness comes between you and your perfect look? Well! Saraswat Hospital can proudly acclaim that it offers the complete range of state-of-the art hair transplantation services in India. The surgery can be to put in very simple terms stated to be being able to put donor grafts to the recipient area so that the patient gets back his lost hair
HOW DO WE DO HAIR TRANSPLANT
Every patient gets information at length about their queries. A thorough history of chief complaints is taken including family history, medical & surgical history and so on
They undergo a detailed hair analysis, which tells us –
1. The oily or dry nature of scalp with a photographic record
2. Whether he has any dandruff, damaged hair, scaliness of scalp, lesions like eczema, psoriasis, atopic dermatitis with dry or oily nature of scalp with a photographic record
3. Whether the patient has a patterned or unpatterned hair loss
4. Is the hair loss due to wound, scald or infection on the scalp?
5. Is there a condition in the scalp in which round patches of hair appear at one part or several parts?
6. Is the body hair, especially from the eyebrow, also decreasing?
7. The width of hair in all the different regions of the scalp can be calculated giving us a fair idea as to
What is the percentage of scalp hair in vellus, intermediate and terminal stages?
What percentage of hair is going to get benefitted by medical treatment, what percentage of hair is bound to fall down and therefore, what are the prospects of hair transplant in the patient concerned.
What should be the expected thickness of hair in the transplanted zone.
8. The density of hair in all the regions of hair can be calculated, which will actually enable us to quantify the no. of grafts available for transplantation from the donor region.
Hair line designing is done by the best doctor for hair transplant in India with the consent of the patient and by making special attention to
– An irregular and a wavy anterior that makes the hairline look more natural
– A soft and ill-defined anterior transition zone of the transplanted area to build the natural density gradually. A dense hairline looks unnatural.
– A good mid frontal forelock is given to the patient for best results.
Detailed information is then given about the before and after hair transplant do's and dont's
By nature everyone wants to look good – "nothing tastes as good as looking good feels". What if baldness comes between you and your perfect look? Well! Saraswat Hospital can proudly acclaim that it offers the complete range of state-of-the art hair transplantation services in India. The surgery can be to put in very simple terms stated to be being able to put donor grafts to the recipient area so that the patient gets back his lost hair
STITCHLESS FOLLICULAR UNIT EXTRACTION (FUE) TECHNIQUE
It is a new advanced hair transplantation technique of extracting individual grafts from the scalp and involves a small round punch device of 0.75 to 1.3 mm size to extract individual Follicular Units using a specialized low-torque motorized machine.
WHAT IS SAFE DONOR ZONE AND WHY AT ALL DO WE NEED IT
These are the hair of your scalp which would not be affected by the androgenetic alopecia pattern of your hair loss.
Since they do not usually fall off from their place at the back of the head and retain their quality, they stay healthy when transplanted in the front of the scalp or anywhere in the scalp.
Advantages of FUE by the physician over the Robot:
– Can be done in White hair too
– Non-shaven(the future)
– Can harvest complex grafts
– Faster
– Lower follicle transection rate
– Our machine displays the number of grafts punched and therefore, the patient can always know as to how many grafts have been punched.
The FUE hair transplant in India enables the creation of large donor pools since it empowers the physician to take grafts from the beard and other areas of the body too.
What are the intricacies of a successful FUE hair transplant procedure or you?
On the donor site- After taking a reasonable number of grafts, the donor site looks fine.
On the recipient site – A reasonably good hairline that suits your face with the best density of hair you can have overall and in the most important mid frontal region. The hairline offers natural direction and angulation.
FOLLICULAR UNIT TRANSPLANTATION (FUT)
The term is actually a misnomer but the meaning it implies is that a strip of hair bearing scalp when taken from the back of the head and cut into thin slivers, is further divided into individual follicular units that are ready to be transplanted into the recipient site.
It is the older hair transplantation technique, which with time has undergone a few advancements-
Skin laxity can be measured before the procedure by a laxo meter wherein the surgeon can be reasonably sure that there is enough elasticity in the scalp skin. This can be approximated after cutting of 1cm wide strip in the mid occipital region.
Trichophytic closure- Suturing the upper and lower ends of the scalp edges in such a fashion that hair grow out through them. Thus, the already thin scar becomes virtually inconspicuous.
MODIFIED FUT TECHNIQUE BY DR SATYA SARASWAT– Presented by him in the 24th World Congress of the International Society of Hair Restoration Surgery, Las Vegas, USA in October 2016. He showed how using this hair transplant technique, the strip can be taken out by using the minimum of efforts and involving less bleeding. Moreover, the FUT technique can preserve the underlying neurovascular bundles very carefully.
Real People Real Results
CLICK HERE TO GET YOUR FREE CONSULTATION NOW
Ethical, Safe, State-Of-The-Art cosmetic surgery services
Ethical – The Medical practice at Saraswat Hospital Agra is in strict accordance with the rules and standards of right conduct, specifically the standards of our noble medical profession. It pertains to the morals too ; pertaining to right or wrong in conduct.
We believe a patient should know these things before making a conscious decision about Cosmetic Surgery:
Make your own decisions: The real expert on your appearance and any concerns you may have is only YOU. The assistance you should need from a qualified surgeon is to decide what, if any, surgery you might need, and you should ensure you get unbiased information regarding what might be technically possible and any associated risks and benefits.
Be thoroughly Informed: Anyone considering any cosmetic procedure should ensure they are fully informed and accept the limitations and risks of any procedure. Remember, no surgeon or procedure is 100% risk free.
Be Comfortable: Make sure you feel comfortable with the organisation, surgeon and clinic you have chosen.
Know your surgeon: Practitioners may boast impressive sounding qualifications, but these can have little meaning. In India a Cosmetic Surgeon should be MBBS (Bachelor of Medicine & Bachelor of Surgery) a Four and Half year Basic Course + one year Internship. After that a three year Master of Surgery (M.S.) is needed before getting an admission to MCh (Magister Chirurgit) in Plastic Surgery, which is a 3 year Superspecialisation Course in Plastic and Cosmetic Surgery.
Dr Satya Saraswat has got above mentioned qualifications along with Gold Medal in Diplomate of National Board,considered by many to be one of the most difficult Examinations to clear worldwide.
Any affiliations to Internationally recognised Societies like ISAPS (International Society Of Aesthetic Plastic Surgery), ASPS (American Society of Plastic Surgery), ISHRS (International Society of Hair Restoration Surgery) & ABHRS (American Board of Hair Restoration Surgery) adds to the credibility and Experience of Cosmetic Surgeon like Dr Satya Saraswat.
Get the timing right: Unless the circumstances are exceptional, avoid surgery if you have recently experienced major life events such as moving house, changing job, losing a loved one, the break-up of a relationship or the arrival of children.
Beware of 'free' consultations (a typical feature of many commercial chain of clinics). Nothing is free (not even 0% EMI).
Take Your Time: Remember that undergoing any surgery is a serious commitment in terms of money & time.
Safe – "Safety first" at Saraswat Hospital Agra. It echos in every deed of ours. Whatever minor procedure or major procedure you undergo we ensure that we complete our checklist of before , during and after things.
Just to give you an overview of how we fulfill our safety scanning –
While we register you for doctor consultation we help you fill a patient information form which enables us to know about your present complaints, history of medical and surgical illnesses and allergies. This empowers us to know a good detail about you as you undergo any procedure.
Your vitals are checked during consultation.
Continuous monitoring during the procedure.
Ever ready emergency medicines and emergency intervention machines as defibrillator, ETCO2 monitor and so on.
Trained Staff helps you and monitors you.
One is to one ratio of patient to staff from the beginning itself.
State-of-the-art – cordial, courteous environment with light music playing relaxes you. As you sit comfortably for your registration with a sip, believe us a whole lot of cosmetic procedures done with utmost sincerity and care await you.
Saraswat Hospital Agra uses the latest and the most sophisticated technologically advanced equipments for the benefit of its patients.
MEDICAL TOURISM
Cosmetic surgery in any form is a serious consideration for everyone contemplating it. The decision to undergo a Cosmetic Surgery takes a lot of fore-thinking, planning, consultation, careful understanding of procedure and post-procedure care and patience. Of Many countries offering Cosmetic Surgery procedures, India is considered the safest bet. To have your cosmetic surgery in India at Saraswat Hospital means getting rid of all the excess stress and worry. We plan out the entire process of consultation, traveling & post-procedure care as per a person's need.

Cosmetic surgery is one of the most sought after medical procedures. There has been a gradual increase in medical tourism in India due to various factors. India provides the most cost-efficient procedures performed by world-class surgeons with state-of-the-art facilities. Getting your cosmetic surgery at Saraswat Hospital, India is best choice, for we have here the very best internationally trained and experienced Plastic Surgeon, Dr Satya Saraswat at with highly equipped and modern facilities

Our Patient Coordinator helps organize you your entire visit for India, who is forever there to help and guide you in every step of the way.

It is a known fact that the cosmetic surgeons in India are as professional and excellent as their western counterparts. We assure you that Saraswat Hospital has the best Cosmetic Surgeon and the most advanced clinic for you to have a well-informed and secure experience.

We assure to be present during the entire procedure, right from accommodation to the after-surgery. We make sure everything is planned and in systematic order so that you can undergo a stress free and comfortable experience. Our affordable rates of procedure, latest techniques and facilities, along with the personalized touch is what sets us apart from the others. Fill up the inquiry form to get in touch with us to proceed with your Cosmetic Surgery in India at Saraswat Hospital.
CLICK HERE TO GET YOUR FREE CONSULTATION NOW