Dr Anuj Saigal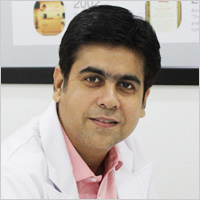 Dr Anuj Saigal is a highly skilled and renowned Hair Transplant Surgeon of Delhi. He is the Founder and Director of MedRootz Clinics,Green Park, New Delhi . He is well known for his services in hair and skin and has performed over 3500 successful Hair Transplants till datedue to which he has been proclaimed as one of the best hair transplant surgeons in India. For his contribution in the medical field he has been Awarded most trusted Hair Care Brand of the year 2022 which was presented to Medrootz clinic. He is a Member of Indian Association of Dermatologists, Venereologists and Leprologists, he also has multiple publications in journals and articles in various newspaper like - Times of India, Guardian, Deccan Herald, he has also enrolled for the membership of Association of Hair Restoration Surgeon (AHRS)- India. He has done his Under graduation from The Tamil Nadu Dr MGR Medical University, Chennai in 2008 and finished his Post-Graduate MD -Dermatology, Venereology & Leprosy in 2013.

Dr Anuj Saigal has helped several individuals regain their natural hair and confidence. Dr. Anuj's passion for his work is evident in every procedure he performs. He provides 100% guidance from the first contact to the last aftercare check. He guides his patients in such a way that they are able to understand each and every surgical step, the goal of the procedure, and he makes sure that their expectations are met. Dr. Anuj is known for his meticulous and artistic approach to hair transplant surgery. As Hair Transplant is fusion of Art and Science, Dr Anuj brings his art to life.

The number of international patients at this clinic has increased drastically in the past years. Dr. Anuj's work is sought after by locals and people from other countries - a testament to his skill and reputation. Dr. Anuj has corrected unnatural (failed/botched up) hair transplants in just one operation. More than 20% of his atients are repair cases. These patients have depleted donor and want a solution without having to undergo multiple surgeries, and Dr. Anuj is known for being able to achieve this. He has also been proven to give consistently good results for the crown area, with full coverage in the natural whorl pattern. Dr. Anuj makes a bespoke hair treatment plan for every patient so that he has nothing to fear if hair loss continues in the future. He ensures that there are always enough grafts to perform another surgery and ensure a natural result.

His expertise in hair restoration treatments makes him the most trusted and preferred choice by people who are suffering from severe hair loss.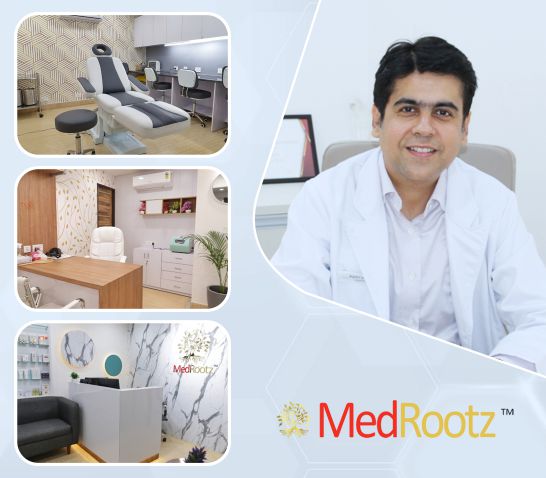 WHO ARE WE :
WE ARE THE EXPERTS IN THE FIELD OF HAIR RESTORATION SERVICES
With years of trust, Medrootz is a top-notch destination for aesthetic dermatology and hair transplants in India. At Medrootz, under the guidance of Best dermatologist in Delhi centre, we use unique combinations and the latest technologies and every single person is been treated with an individualistic approach to provide an outstanding result in MedRootz. We make sure that our clients get the best treatment for their hair and skin. Our main motto is to serve our customers with premium quality services and we firmly believe that every individual has different symptoms, signs, genetics, and associated environmental factors which lead them towards their hair and skin problems. We feel that when the entire system is been treated then only patients get their desired results instead of treating some of the specific symptoms. Under one roof our patients get the advantage of various services. We not only understand the underlying cause of hair loss but also understands the devastation one can feel after hair loss. We have always prioritized the formulation of personalized plans to cater to the needs of the concerned client and bring out satisfactory results
WHY CHOOSE US?:
Ultra High Density with natural hairline.
Use of Advanced & Best-in-Class Technology for your Transplant.
Use of Patented Mechanized Extractor that can place 3,000 to 5,000 hair in a single sitting.
Implant about 60-70 hair per sq.cm which is vital for a high-density end result.
Procedure using Deft Touch Technology of 0.7 – 0.8 mm diameter – No stitches, no linear scarring.
Use of Foli Pen Technology for natural zig-zag hairline.
No. of hours per session/ sitting – 6-8 hours only; with required breaks, if needed.
Experience of handling Mega/Giga Sessions.
Strict protocols are applied to all processes and at all levels to guarantee 100% safety
Only healthy hair follicles, excluding hair in telogen phase, are chosen and implanted
Grafts viability rate is above 97%, while industry's average is about 50%, as per independent studies

Hair Restoration Options at MedRootz
Nu-FUE Hair Transplant
Nu-FUE & FUT Combination
Body Hair Transplant
Beard, Moustache Eyebrow Reconstruction
Maximum Coverage Transplant
Hair Transplant:
Healthy hair is just like a healthy and well-groomed body which shapes one's confidence in several ways. But in recent times, hair loss has become a grave concern for most people and it is evident in people of all age groups. Widely prevalent factors like air pollution and stress aggravate this problem even further. Hair loss can adversely affect one's social image too. Given the extreme social interaction that has become the norm of the day, this problem can put an individual in a rather uncomfortable and embarrassing situation. But this is where MedRootz comes to the rescue. Medrootz is the best hair transplant clinic in Green Park, Delhi, offering the best hair transplant in terms of safety & effectiveness. Hair loss being a very serious issue requires the utmost care and precision therefore we offer you the best Hair treatment in Delhi at the best hair transplant clinic in Delhi . At MedRootz, we offer an advanced Hair Transplant range which includes the MedRootz Nu-FUE Hair transplant in Delhi, which lets you experience the Best hair transplant in delhi. If you or any of your loved ones feel that hair loss is affecting your everyday life, then it seems Medrootz is your destination.