Dr. Ashutosh Misra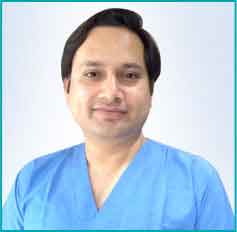 Dr. Ashutosh is one of the best hair transplant surgeons in Delhi. He is an MCh in Plastic Surgery and is associated with EnhancedMed+ as a senior surgeon. Specializing in Hair Transplantation and Advanced Cosmetic and Reconstructive Surgery, he combines his technical knowledge and surgical precision with aesthetic skills to deliver the most natural-looking results for his patients to complete satisfaction. Click here to visit EnhancedMed+ for more info.

Qualifications:
Dr Ashutosh Misra is an internationally trained and recognized hair transplant surgeon known for conducting more than 5000 successful cosmetic surgeries. His qualifications include MBBS, MS in General Surgery, and MCh in Plastic and Reconstructive Surgery (IPGME&R Kolkata).
Dr Ashutosh Misra has also received Advanced Training in Microvascular Surgery from Providence Hospital, St John Health, Michigan, USA. He is also a visiting scholar and fellow at various other renowned institutes in the USA, including:
Manhattan Eye Ear & Throat Hospital for Facial Plastic Surgery, New York.
Institute of Craniofacial and Reconstructive Surgery, Southfield, Michigan, USA.
Memorial Sloan Kettering Cancer Centre, New York, USA.
University of Washington Medical Centre, Seattle, Washington, USA.
Memberships and Certifications:
Indian Association of Aesthetic Plastic Surgery (IAAPS).
Association of Plastic Surgeons of India (APSI).
Association of Surgeons of India (ASI).
Indian Medical Association (IMA).
Association of Hair Restoration Surgeons – India. (AHRS-I).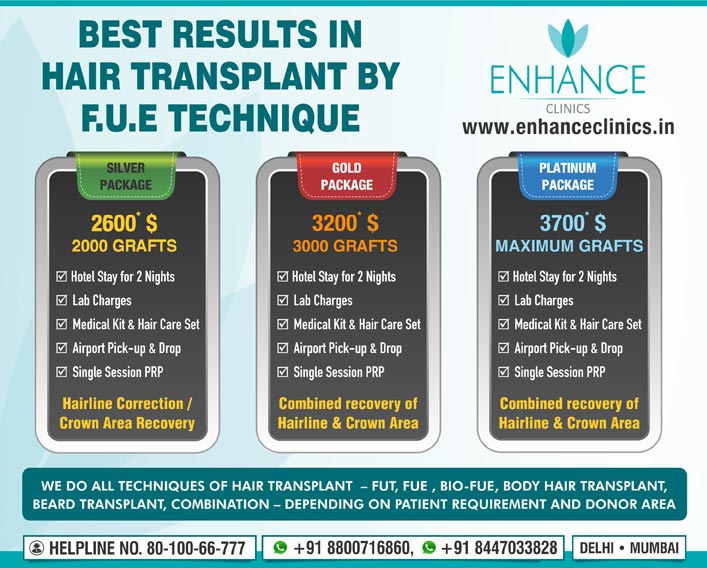 Experience and Expertise:
With more than 20 years of experience in the field of hair transplantation, Dr Ashutosh Misra is known for providing natural and undetectable results, helping his patients regain their lost hair, confidence, and happiness. Due to his achievements,

experience, and capability to deliver phenomenal results to his patients, Dr Ashutosh is considered one of the most successful hair transplant surgeons in India today.

He is an expert in various hair transplant treatment techniques. Along with Dr Ashutosh, the team of doctors at EnhancedMed+ Clinic provide successful hair transplant procedures like:
Follicular Unit Transplantation (FUT).
Capillary FUE Implants (Follicular Unit Extraction).
Direct Hair Restoration (DHR).
FUT+DHR Combo Hair Transplant.
Micro Sapphire DHR Hair Transplant.
Hairline Restoration.
Body Hair Transplant.
Eyebrow Hair Transplant.
Beard and Moustache Hair Transplant.
Failed Hair Transplant Repair.
Dr Ashutosh also specializes in Advanced Cosmetic Surgical Procedures such as Liposculpting (Abdominal Liposuction), Laser Liposuction, Full Body Lift, Tummy Tuck, Reconstructive Cosmetic Surgery, Breast Lift, Breast Augmentation and Reduction, Gynecomastia (Male Breast Reduction), Eye Lid Correction, Lip and Cheek Augmentation, Rhinoplasty (Nose Correction), Ear Lobe Repair, Chin Reduction, Acne Scar Removal, and Dimple Creation.
Hair Transplant in India:
Hair loss has become a fairly prevalent phenomenon today, affecting countless men and women in India and around the world. The most common cause of hair loss is hereditary pattern baldness, also known as Androgenetic Alopecia. Hair loss can completely break a person's confidence, especially if you face it at a young age.

Fortunately, with hair transplants in India, you can get back your lost hair and youthful appearance once again. In a hair transplant procedure, the surgeon extracts healthy hair follicles from the donor area (usually the back or sides of the head) and transplants them to the recipient area affected by hair loss and balding. Since a hair

transplant is a surgical procedure, it is best to go with a reputed and reliable hair transplant doctor in Delhi, like Dr Ashutosh Misra, to ensure satisfying results.

Dr Ashutosh Misra is renowned for his exceptional patient care before, during, and even after the surgery. Having more than 20 years of expertise, he understands the patient's needs, examines each case patiently, and delivers quality treatment and remarkable results. With Dr Ashutosh, you can be confident of a safe and comfortable experience as well as natural-looking and lasting hair growth with optimum hair density and coverage.

EnhancedMed+ Clinics are equipped with state-of-the-art infrastructure and best-in-class technology. Aided by world-class equipment and an experienced team led by Dr Ashutosh Misra, the clinic has earned its reputation internationally as a centre of excellence in hair transplant treatments. Today, Dr Ashutosh Misra has happy patients from all over the globe.

If you are looking for the best hair transplant in India, visit Dr Ashutosh Misra for a consultation at EnhancedMed+. With exceptional quality patient care and aftercare facilities, you can be assured that you are in safe and experienced hands.