An interview with Dr Sunil Arora, one of the best hair transplant surgeon in Jaipur
ALCS Hair transplant and Cosmetic Clinic, Jaipur, India is a pioneer organization in the field of Hair Transplantation by internationally renowned Cosmetic Surgeon Dr. Sunil Arora.
ALCS Hair transplant and Cosmetic Clinic, Jaipur, is internationally recognized for providing world's best aesthetic Hair Transplantation and other Cosmetic Services under one single roof globally.
Our clinics are equipped with the best infrastructure and the updated technologies. At ALCS, hygiene standards are maintained to provide a more hygienic environment.
For Hair Transplant Surgery, there are separately dedicated operation theaters to minimize any risk of infection.
Dr. Arora is a well-known name in the field of Hair Transplant and Cosmetic Surgery in India started his practice in the year 2009 from SDMH, the biggest private sector hospital of the state of Rajasthan.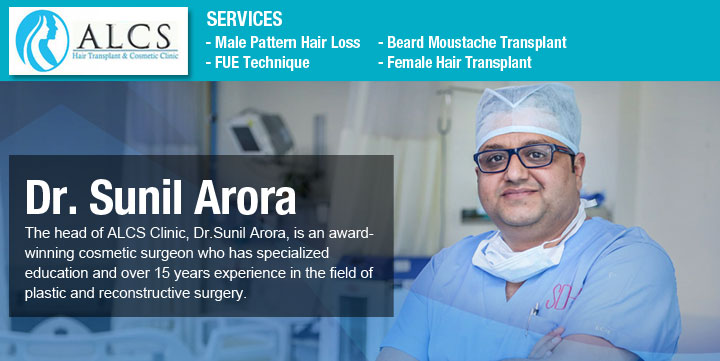 After completing his training under Dr. Manoj Khanna for Hair Transplant Dr. Arora started hair transplant at SDMH in 2011-12, Jaipur and gradually with the delivery of excellent results and patient-oriented services the number of hair transplant procedures rose exponentially. Dr. Sunil Arora then started his own clinic ALCS in Jaipur in the year 2014, ALCS now is a renowned name in Hair Transplant across India and have clients visiting us from all over the world. He has performed more than 1000 hair transplant including male/females hair transplant, beard hair transplant, and eyebrows hair transplants. Moreover, hair transplants are regularly performed at ALCS. At ALCS hair transplant services are provided to burn victims at very subsidized rates, motto- paying back to the society- social service.
Dr. Sunil Arora is a bundle of talents! That's the simple reason why he has been bestowed upon with numerous awards and honors. His continued endeavors of delivering honest and dedicated services are indeed a blessing for the society.
His active research interest and unstoppable caring behavior for his patients have led Dr. Sunil Arora to be an active participant in many civic and community activities, scientific meetings, thesis, and presentations. His achievement speaks volumes of his competency that has led his name among the top plastic surgeons in India. And also, has placed him a role model for any aspiring candidates to become a cosmetic surgeon in Jaipur.
Is it safe to travel to India for hair transplant surgery?
The international patients are witnessing the life-changing experience at our Clinic in Jaipur, India. Yet the constant fear which all encounter due to change in location accompanies them.
There are many patients who fly from all over the world with problems and they fly back with a happy healthy body.
Just needs to follow few steps.
1) Starting with virtual consultation which will allow the patient to share information with our surgeons before they fly to India.
Virtual Consultation is to understand concerns, expectations of the patient, the preparatory stage, the costs involved and the recovery span
2) Once the patient and the doctor are on the same page, then they can finalize on the costs and date of Surgery.
3)It is recommended to fly on a Medical Visa. Complete details from patients end will be required if they intend to fly through medical visa.
We will send the letter of invitation addressed to the embassy to smoothen your visa process.
4)The patient will receive the transportation ones he/she will land. Every procedure will be planed before the patient's arrival dates.
We have a 24×7 in-house facility which helps to make patient's stay hassle free. That way, the doctor is easily available in case of an emergency.
This facility is helpful if you are traveling alone.
***The packages are available in Economy, 3 Star and 5 Star
- Stay
- Local travel
- Sight-seeing at nearby places
- Procedures at ALCS
What is the Ideal age for hair transplant?
**There is no specific age for hair transplant, as we have operated the patient from 20 to 70 Age.
It all depends upon the grade of baldness and medical fitness.
Are you licensed in India to perform hair transplant surgery?
**Yes
How much does a hair transplant cost?
** As of now, Our regular per graft cost is 0.70 USD
Do you do hair transplant for women?
**Yes we do.
Are there any discounts?
**Its not specific.
Which part of the surgery will doctor attend, supervise or perform?
**All the surgical part like incision (strip harvest) and slit making (making holes, angle, and direction for hair) will be performed by Dr. Sunil Arora,
Graft's dissection and graft insertion will be performed by his trained and experienced team.
What type of anesthesia will you use?
Local Anaesthesia- We use nerve block followed by ring block to anesthetize the scalp. Sedation is used selectively depending upon patients comfort. Patient stay awake during the procedure and takes his meals in between.
How are the extracted grafts selected and transplanted?
** The harvested hair strip is divided into a single layer of hair follicular units called the Slivers. Each silver or hair follicular units are then trimmed for a few extra tissues.
The hair grafts are then separated individually which will be finally implanted in the bald area of the head.
**The recipient site is mostly done with extra precision because it will decide the complete look post-surgery. Fine blades or needles are used to create the site.
Later during the FUT hair transplant, the angle of hair is decided by the Doctor. Then the hair grafts will be transplanted into holes made by Dr. Sunil.
**End of the procedure, each of the grafts will be checked again and the patient will be told about the post-op schedule. Patient will also be given a printed copy of the same
so that he/she can follow all the instructions. Your donor area will be covered with a bandage and you will be able to wear a bandana or cap to provide further protection.
How long does the procedure take?
**The hair transplant is a day-care procedure and it takes around 6 to 8 hours, In which multiple breaks like breakfast, lunch, and tea are given to the patient.
How many assistants will attend hair transplant surgery?
**We have a team of 6 to 8 technicians and assistants excluding Dr. Sunil.
How long will it take for the physical recovery?
**It doesn't hamper basic routine daily activity.
**Air travel can be done after 1-2 days,
**It will take around 5 to 7 days for healing.
**Advised not to rub scalp for 2-3 weeks.
**Exercise to be done after 4-6 weeks.
Are there any side effects of hair transplant?
**These procedures are one of the safest medical procedures with transformational results.
At ALCS, hygiene standards are maintained to provide a more hygienic environment.
For Hair Transplant Surgery, there are separately dedicated operation theaters to minimize any risk of infection and side effects.
Will the results look natural?
**Absolutely natural. Checkout our videos below
Then why do we see hair that doesn't look natural?
**Expertise and credentials of the surgeon, clinical setup, how frequently the procedure is being done - are the most important factors that will decide the result, whether natural or unnatural.
What is the risk of losing transplanted hair during the recovery?
**we have protocols for post-op management, following them reduces the risk of losing the transplanted hair. The Patient should avoid rubbing or any hard/harsh touch on the recipient area till 48 to 72 hours in order to save the transplanted hairs during the recovery period.
For that, we especially take precaution and provide print instruction to them. Moreover, we do call them and instruct the same.
When patient will get a final result after hair transplant surgery?
**The patient will see visible changes in 3 months. Then every month he/she will see 10 to 20% increment in density and length both till 10 to 12 months.
He/She will achieve full results in 12 months.
What are the options if a patient is not satisfied with the result?
**Transplanted hair usually stay for long and he/she has to take care of there existing hairs by taking some prescribed medicines if they have progressive hair fall in future.
**Still, we can plan another session in very nominal charges.
Posted in
Hair Transplant
by:
Sang Ale
2019-01-22 | Hairfear