An interview with Dr Suneet Soni, one of the best hair transplant surgeon in India
Q1: Provide brief description about your clinic and doctors?

Answer: Medispa hair transplant clinic in Delhi and Jaipur is one of the most renowned clinics in India with worldwide fame. We offer assured best hair transplant results with natural look. We are one of the fewest centers in India maintaining international standards and well equipped with latest technology. Dr Suneet Soni, our in house surgeon is highly qualified (M.S. General Surgery, M.Ch. Plastic Surgeon) and has experience of more than 13 years with history of performing more than 5000 hair transplant cases.
He is the one who has introduced Bio Stimulated Combination Technique (FUT+FUE+PRP) in Delhi and Jaipur. His active contribution in field of hair transplant has made him active member of various national and international conferences International Society of Hair Restoration Surgery (ISHRS), International Society of Aesthetic Plastic Surgery (ISAPS), International Alliance of Hair Restoration Surgeons (IAHRS), Association of Plastic Surgeons of India (APSI) and Association of Hair Restoration Surgeons (AHRS). His unparalleled artistic skills to design hairline make him distinct in the crowd of other hair transplant surgeons.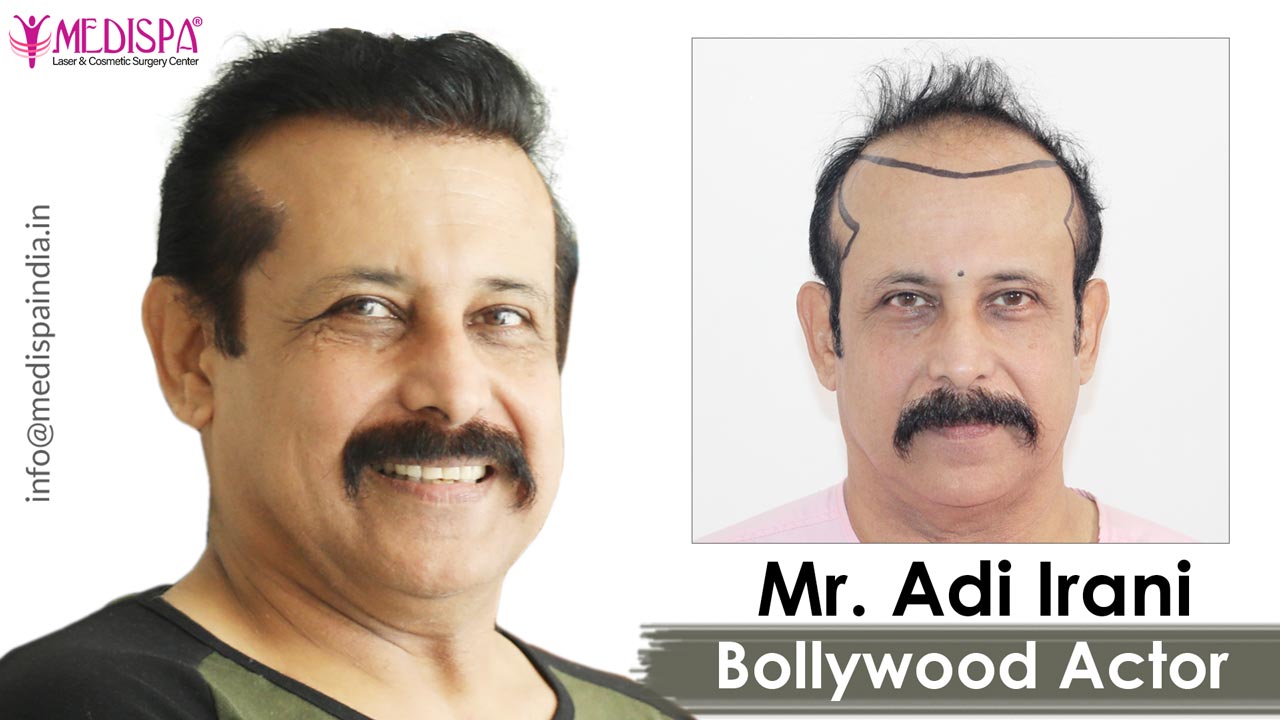 Q2: Is it safe to travel to India for hair transplant surgery?
Answer:
India, being a nation of cultural importance believes in welcoming their guests. At Medispa Hair Transplant Clinics, many patients from abroad come to conduct their successful Hair Transplant, we especially assure the comfort and safety of the visitors.
We specially provide comfortable 3 days accommodation, all possible world class amenities are been provided on door step for a relaxing and safe surrounding to make your hair transplant journey memorable. Hence, yes it is completely safe to visit India for hair transplant surgery.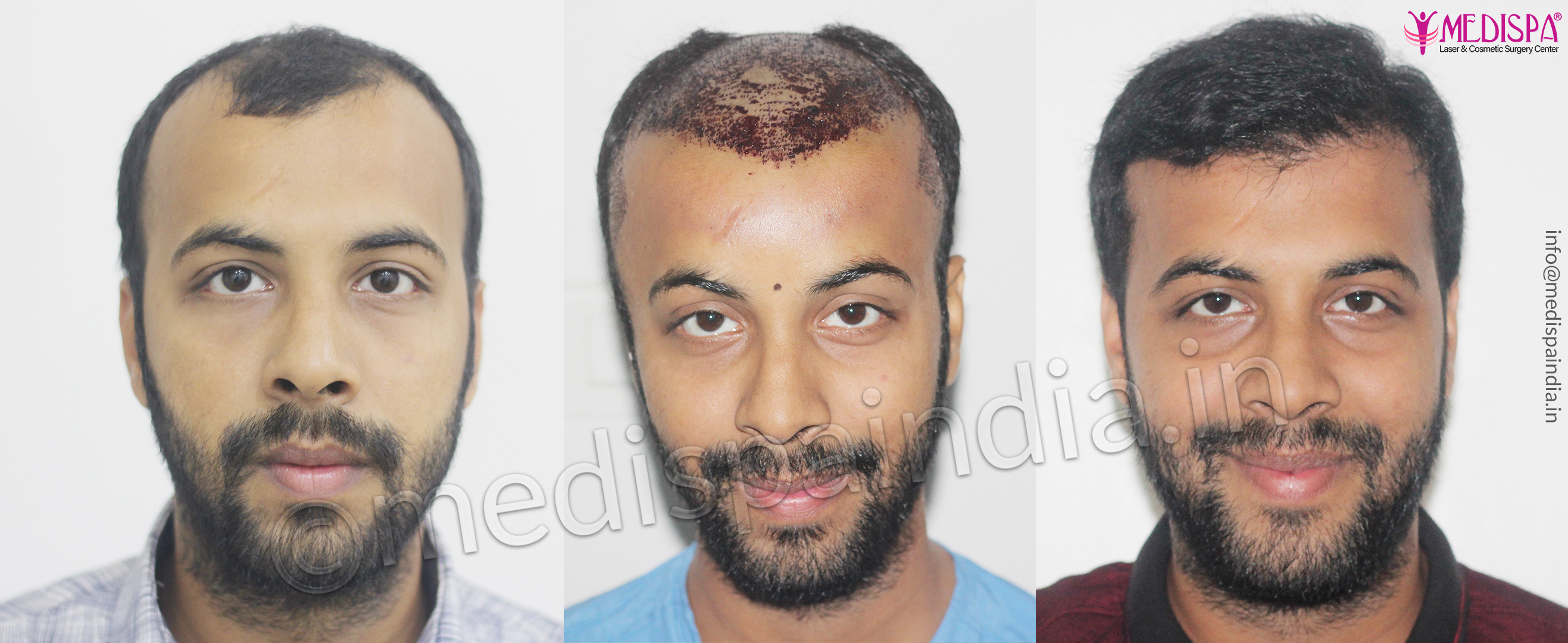 Q3: What is the Ideal age for hair transplant?
Answer:
Ideally, there is no specific ideal age for hair transplant and the feasibility of candidature depends as per the individual patient. Usually hair transplant is not performed below 21 years as there are less chances of stability of hair loss at this young age and would lead to fast progression of further hair loss. Including, other multiple factors to avoid hair transplant at this tender age is masking of real cause of hair loss, unpredictable rate of hair loss and frequent hormone alterations. But if the hair loss seems stable for years and other factors seem feasible, hair transplant can be performed.
Q4: Are you licensed in India to perform hair transplant surgery?
Answer:
Medispa hair transplant clinic is an authorized and certified hair transplant centre located in Delhi and Jaipur. Dr Suneet Soni is an authorized super specialized plastic surgeon who is also board-certified and has been an active member of international organizations such as International Society of Hair Restoration Surgery (ISHRS), International Society of Aesthetic Plastic Surgery (ISAPS), International Alliance of Hair Restoration Surgeons (IAHRS), Association of Plastic Surgeons of India (APSI) and Association of Hair Restoration Surgeons (AHRS).
Q5: How much does a hair transplant cost?
Answer:
India is one of the most affordable nations for hair transplant treatment which is 5-6 times lesser than the other developed nations like USA, UK, Australia, Canada, and UAE. Globally the cost of hair transplant varies according to Doctor's qualification, Exclusive experience in hair transplant, equipment's, hygiene level, technique of hair transplant opted, number of grafts required, and donor/recipient area (facial hair transplant or scalp hair transplant). The average cost of hair transplant in India ranges between 100,000 to 400,000 INR depending on the number of grafts required as per the reputation of the clinic and surgeon. The range of cost per graft in India varies from $ 0.8 to $ 1.25 USD as per the clinic.
Q6: Do you do hair transplant for women?
Answer:
Yes, our hair transplant centre performs hair transplant for both men and women. Dr Suneet Soni has successfully delivered desirable satisfactory and very natural looking results to many female patients who have approached Medispa clinic for their hair transplant. The techniques for performing graft harvesting in hair transplant is similar in both men and women: FUT and FUE hair transplant. But hair transplant in females is distinct from men's hair transplant as shaving of head is not performed in females at any step and the hair follicles are implanted without damaging the existing adjacent hair roots. Hair transplant in females is bit tricky and special attention has to be paid for hairline design. Unlike males the receded line and temporal triangles are covered in females. Including, the cost of hair transplant for females could be on bit higher side as it requires excellent expertise of the surgeon.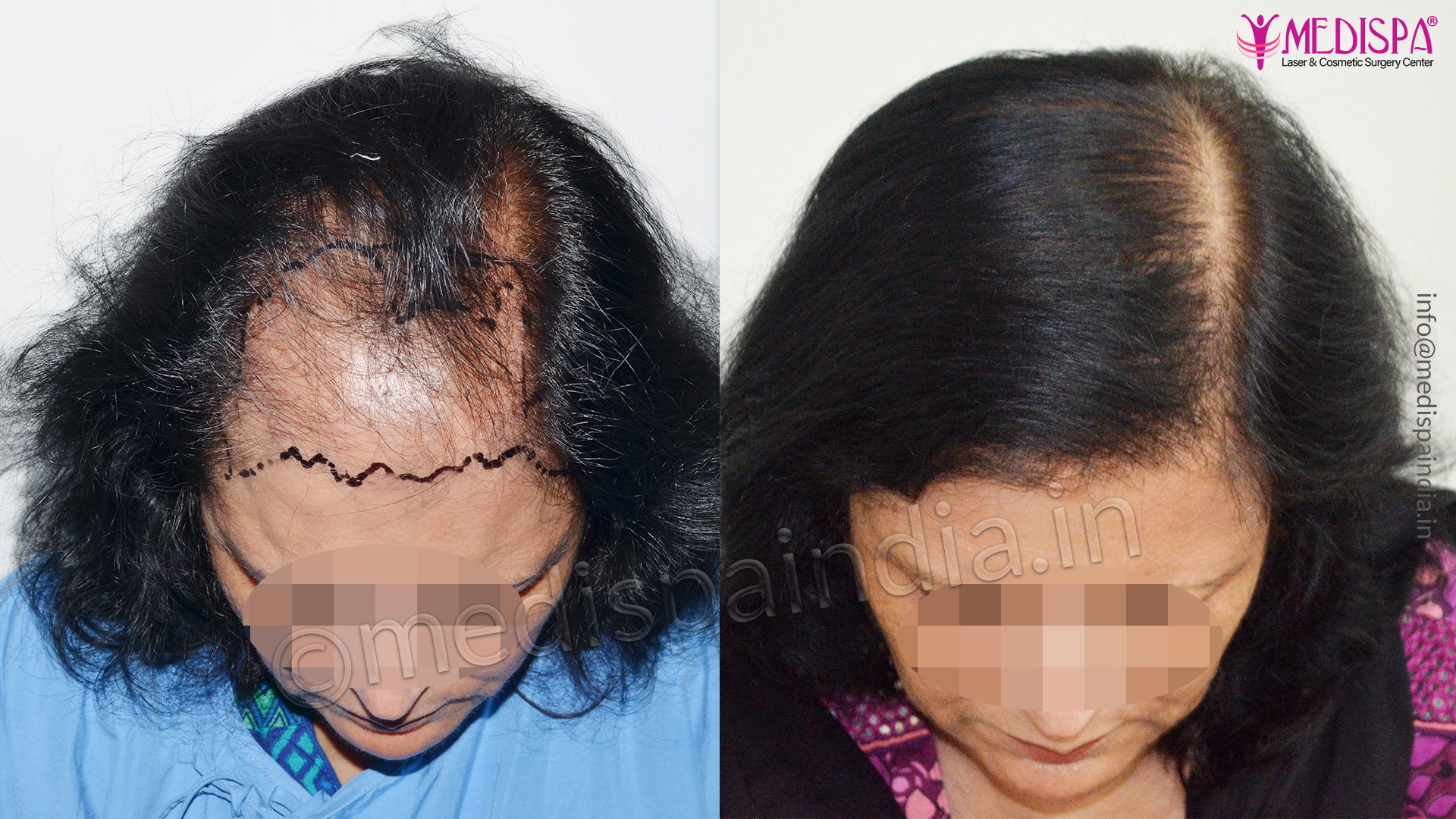 Q7: Are there any discounts?
Answer:
We at Medispa do not offer discounts but our cost completely complements the world class standards which are maintained at its best. We believe in delivering the best possible results at an affordable cost.
Q8: Which part of surgery will doctor attend, supervise or perform?
Answer:
Medispa clinic for hair transplant is well known for one of the best in house surgeons Dr Suneet Soni and highly experienced supporting big team of technicians and nurses which are associated with us for more than 8 years. Dr Suneet Soni believes in performing every surgical and artistic step of hair transplant on his own as according to him perfection in every minor detail is mandatory to achieve desirable results. Each surgical step is performed by Dr Soni himself which includes Strip harvesting from the scalp and slitting at the recipient area. When FUT technique is performed, graft segregation is the step which is performed by our highly skilled and experienced technicians under video assisted microscope. Including, after slitting we have a team of implanters who are highly experienced in implanting the hair follicles and perform this under the strict supervision of Dr Soni. Our supporting staff always stays beside Dr Soni during the procedure helping him at every aspect for better efficiency.
Q9: What type of anaesthesia will you use?
Answer:
For painless and comfortable experience of patient we prefer injecting local anaesthesia only once prior to performing the hair transplant which works for the whole procedure and trauma of repeat anaesthesia can be avoided. A special formulation of cocktail of anaesthetic drugs is formulated by Dr Suneet Soni which efficiently lasts for approximately 12 hours.
Q10: How are the extracted grafts selected and transplanted?
Answer:
The hair transplant can be performed by 2 primary techniques: FUT and FUE. The difference in these techniques lies in the varying graft harvesting procedure. The harvested grafts by either method are separated individually under German microscope (20X Magnification) by the experienced team of technician and selected judiciously for final transplantation to respective desired location. Single grafts are preferably transplanted in the front line and temporal triangles which deliver best natural results. The multiple thick grafts are transplanted in the rear lines which deliver fuller look. Hair line design is opted based on the gender and age of the patient. The hair follicles in the front line are implanted at a perfect angle and direction. Including, the arrangement of hair follicles has to be taken care of which should follow irregularly irregular Zigzag pattern of hairline. Following the transplantation procedure patient is advised with post-op instructions which have to be followed strictly.
Q11: How long does the procedure takes?
Answer:
Each procedure of hair transplant including FUT, FUE or combination method of FUT+FUE has their varying time range according to the number of grafts required. Fig. : Combination Method FUT + FUE If hair transplantation is performed using FUT or FUE technique it takes around 7-8 hours. FUE technique takes comparatively more time when compared to FUT and extraction of 2500-3000 grafts takes approximately 6-8 hours. When combination technique is opted for extensive baldness, it takes around 8-9 hours as both FUT and FUE are performed in single mega session.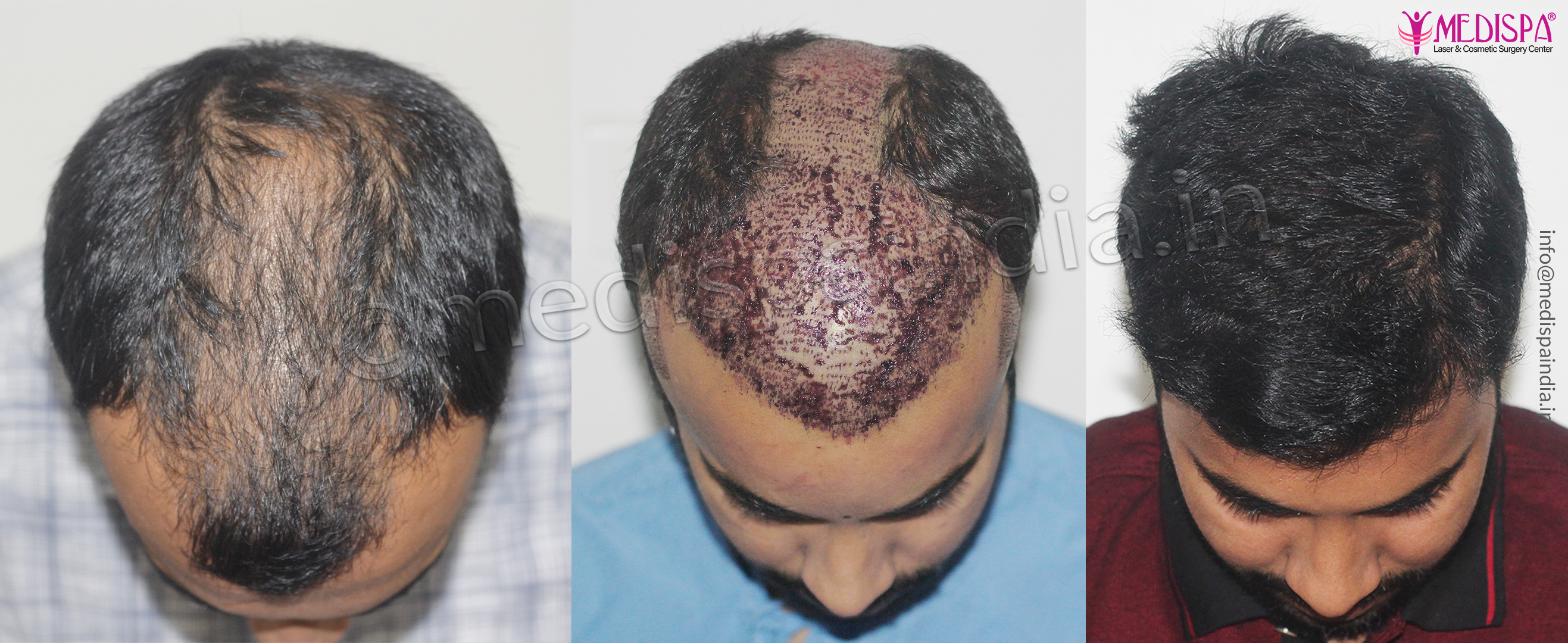 Q12: How many assistants will attend hair transplant surgery?
Answer:
As hair transplant is a surgical procedure and requires strict asepsis, maximum of 2 supporting staffs are allowed in the operation room. Once the grafts are harvested in FUT technique, the strip is sent to graft separation room for dissection of individual graft by an experienced team of technicians which could be many usually 10-12 which performs the grafts segregation under video assisted microscope. After graft harvesting, highly experienced implanters transplant the hair follicles in the slit prepared by Dr Soni. Hence, in total, 18-20 highly experienced staffs attend the procedure at different steps.
Q13: How long will it take for physical recovery?
Answer:
Hair transplant is the only procedure for hair loss which offers permanent results but the results are not visible overnight.
•
Routine work can be started by patient the very next day but regress exercise should be avoided for 5-6 weeks.•
Healing of donor and recipient site usually takes 8-12 days. •
Post operative care is performed for first 10 days after the hair transplant.•
Effects like swelling and redness fades away in approximately 5-8 days. •
Visible hairs on the bald area takes around 3-4 months, Full growth can be appreciate in 10 -12 months
Q14: Are there any side effects of hair transplant?
Answer:
There are no serious side effects of hair transplant but few mild side effects could be observed which are easily manageable and temporary. The side effects include itching, mild swelling, redness, numbness, and discomfort during sleep. Medispa hair Transplant Clinic takes special care of patients by maintaining standard hygiene and safety protocols which minimize the occurrence of any side effects followed by the procedure.
Q15: Will the results look natural?
Answer:
Yes, hair transplant gives absolutely natural results but is very subjective to say this as is purely surgeon dependent. A surgeon with excellent surgical skills and extraordinary artistic approach is required to achieve natural results.

Dr Suneet Soni, being a plastic surgeon by profession and artist by passion is a perfectionist in terms of delivering natural results. His creative approach to design hairline by ideal arrangement, alignment and angulations of hair follicles is unique and differentiate him to be the best among all.
Q16: Then why do we see hairs that don't look natural?
Answer:
Hair transplant procedure is intended to deliver natural results but the results you achieve are very subjective as they depend majorly on the surgeon one has opted for. If the hair transplant is performed by expert hands that have artistic approach would surely deliver natural results. On the other hand, if the procedure is performed by inexperienced and under qualified doctor/non surgeon it would lead to fake looking bad results. These inexperienced doctor due to lack of knowledge implant the hair follicles inappropriately which gives wigs like appearance. In case of FUE procedure if the punch size is not opted appropriately and chubby grafts are implanted without cleaning under microscope it would lead to doll head or plugy grafts appearance which gives an ugly or unnatural look.
Q17: What is the risk of losing transplanted hairs during recovery?
Answer:
The success of the hair transplant procedure lies in the expertise of the surgeon and the technique opted. If it is performed appropriately, it delivers permanent and natural outcomes. But if FUT or FUE performed by inexperienced hands, it loses the credibility of results and could increase risk of transplanted hairs during recovery. In addition to expertise of surgeon, techniques of hair transplant also matters for achieving the best results. If the technique employed leads to overharvesting, it could negatively affect the permanency of results and increase the risk of losing transplanted hairs as well as damaged or depleted donor site.
Including, post-op phase is crucial for the successful results which relies on patient's cooperation. Hence, we take precautions and follow up with patient regularly regarding strict following of instructions prescribed by our surgeon.
Q18: When patient will get a final result after hair transplant?
Answer:
Every newly transplanted follicle runs according to their phase of growth cycle. Initially after few days every transplanted hair shaft undergoes shedding and it looks like previous bald area prior to hair transplant. After 3rd month usually some growth becomes visible until then the hair follicles stays in rest phase followed by growth underlying the scalp skin. The full growth takes around 8 -12 months.
Q19: What are the options if patient is not satisfied with the results?
Answer:
Ideally, it is crucial to opt for a clinic whom you can be assured of results. Unfortunately, if you are not satisfied with the results you can go for hair transplant revision. This is a procedure of correcting the bad hair transplants. This procedure needs lot of expertise and experience so better look for it judiciously.
Hairfear