Cost of hair transplant in Ahmedabad
Ahmedabad has a population of 6.4 million, being a financial cent of Gujarat and one of the fastest growing Indian cities. Apart from many Hindu temples in Ahmedabad, it also encompasses many minarets and Muslim mosques. Across the river, the Calico Museum of Textiles, once a cloth merchant's mansion, has a significant collection of antique and modern fabrics. . The average cost for a basic Hair transplant session here is somewhere between Rs.30,000 to RS 95,000 ($1100), between RS.30 - to RS.80 (.44-1.17 USD) per graft depending on graft required, techniques, physician qualifications and clinic loaction. This will include the basic cost of surgery, blood tests, hair growth therapy sessions, the surgeon's fees and more. Ahmedabad is known for its skilled surgeons and it may potentially be easier to secure an appointment online or offline.
Overview of hair transplant costs in Ahmedabad
FUE is the most common type of hair transplant available in this region. This method involves harvesting or extracting donor hair which is often taken from the back and sides of the scalp and then transplanting it in areas where hair is thinning. The nice part about this type of hair transplant is that it takes around 7 to 10 days to heal over and the marks that are left are generally buried under hair making them barely noticeable.
The average hair transplants in Ahmedabad, India of around 1000 hair grafts might range from RS 35,000 to RS. 45,000. This price is just under RS 70,000 (US $1000) on the high-end. More extensive FUE treatments including 3000 hair grafts might total closer to RS 1,40,000 ($2000) in this area but this is still substantially lower than what you might pay in the United States or Europe. In the United States most doctors charge per graft and may also have an extensive consultation fee. This could put an FUE treatment of 3000 grafts at a price of around RS.9,80,000 ($15,000. USD)
The main factors that can influence hair transplant costs include:
The density required for transplant:
Most hair transplants provide 35-40 grafts per cm2. The number of grafts provided will depend on how bald a person may be coming into the surgery.
Total number of grafts required:
Depending on the side of the area that requires grafts you can sometimes be charged on a per graft basis for the surgery.
The technique:
Different techniques may need to be used in order to insert multiple hair follicles per graft or utilize one of two methods for the surgery. The traditional method for implanting the hair follicles called FUT usually costs between 30-40 rupees (.37-.59 USD) per hair graft whereas the advanced stitch less procedure known as FUE can cost between 30-80 rupees (.44-1.17 USD) per graft. The second procedure technique can produce a faster recovery time and a much more natural look but it does cost considerably more.

The qualifications of the physician:
The operating doctor for hair transplant surgery should be a qualified plastic surgeon that has many years of experience in the industry. If a doctor comes highly recommended and highly in demand from many travellers and locals they can often command a higher price for their services. As well as the experience that a doctor can provide, the quality of their results also come into consideration. If a doctor has performed quality work in the past and they can reference a number of excellent and natural looking surgeries that they have performed, they can often command a higher price as well.
Hair transplant in Ahmedabad - per graft comparison of hair transplant cost

Cost of hair transplant in India
Number of hair grafts
Average Low Cost
Average High Cost
No of Sittings Required
(1 sitting = 3 to 8 hours )
500 - 1000 Hair Grafts
Rs.30,000/-
Rs.45,000/-
1
1000 - 1500 Hair Grafts
Rs.45,000/-
Rs.67,500/-
1
1500 - 2000 Hair Grafts
Rs.60,000/-
Rs.90,000/-
1 - 2
2000 - 2500 Hair Grafts
Rs.75,000/-
Rs.1,12,500/-
1-2
2500 - 3000 Hair Grafts
Rs.90,000/-
Rs.1,35,000/-
2
3000 - 3500 Hair Grafts
Get a FREE Quote
Get a FREE Quote
2
Disclaimer: The hair transplantation cost shown above is an approximation and may vary from clinic to clinic.
Comparing the cost of hair transplants in Ahmedabad, India and the world:
If you are considering coming to Ahmedabad to receive a consultation for hair transplant surgery you should keep in mind just how much cheaper this type of cosmetic surgery can be in Ahmedabad, India vs other parts of the world.
With the average cost of hair transplant surgery in Ahmedabad starting at an average of RS.45,000 (685 USD) and rising to an incredible minimum cost of $1550 in the United States and European countries, you can save an average of 70-75% on the cost of your surgery simply by getting it done in Ahmedabad, India. With a whole host of qualified surgeons are working across Ahmedabad, and increasing number of medical tourists are making their way to Ahmedabad each year for these types of procedures. Not only is hair transplant surgery more common, but with the cost savings that can be had in Ahmedabad, India FUT and advanced hair transplant FUE surgery is on the rise as well!
Get your FREE personalised online hair transplant quote now!
Submit the short form below and our hair expert will get in touch with you
Note - By clicking on 'SUBMIT' above you confirm that you accept the Terms of Use
Method and Cost of Hair Transplant in Ahmedabad
The most popular hair transplant methods are: Follicular Unit Hair Transplants (FUT) and Follicular Unit Extraction (FUE). Both methods involve follicular transplant, meaning follicles are extracted from donor area and transplanted in the recipient area; but the way follicles are extracted and transplanted is different in each case. Hair follicles are taken from patients themselves, mostly from the backside of the scalp.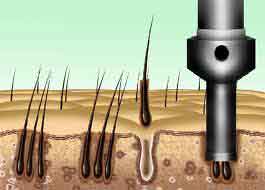 In FUE, individual follicles are extracted from the donor area and transplanted to the recipient area one by one; whereas in FUT, also known as strip method, a strip of hair follicles is taken out from the donor area and transplanted on the area with baldness. Strip method is regarded as the golden standard in hair transplant because it has higher success rate; however, this procedure results in a linear scar on the donor area.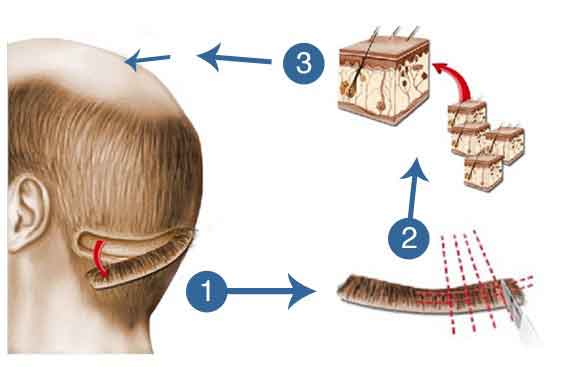 FUT method is simple and cost effective because it involves less number of incisions on the scalp. A single strip may be used to implant a large number of grafts, up to 5000 or more. This method is better for treating extensive baldness covering large areas on the scalp. Compared to FUE, FUT involves less blood loss and pain. The procedure can be completed much quicker than FUE. Also, in FUE the chances of hair follicles getting damaged are also less because donor area suffers from less shock from the surgical procedures. Another advantage of FUE method is that donor area need not be shaved, so there will be no disfigurement of the existing hair as the donor area will be easily covered by existing hair surrounding it.
Either procedure ( strip harvesting or follicular unit grafting) is carried out under local anesthetic, and for male pattern baldness, an average of 2500 hair follicles are re-established in the recipient area per session. Depending on which procedure you opt for, the healing time varies between 1-2 weeks.
Benefits Hair Transplant Surgery
Like any surgery, there are pros and cons, and benefits and risks associated with having the Hair Transplant procedure done. For many the desire to no longer have a bald scalp can far outweigh concerns over scaring or costs that may worry others.
Here are few 5 benefits to keep in mind as you research for your hair transplant journey.
Better Looks
A Permanent Solution
Improved Self-Esteem
Cost Savings
A Natural Appearance
Related Links
Frequently asked questions about hair transplant procedures
Hair transplants can vary in price based off of the area in the world that you are interested in getting a hair transplant as well as the size of the area where you may need a hair transplant. Experienced doctors in the United States will often charge some of the highest prices for a hair transplant worldwide and this is why so many travelers make the move to other parts the world like Turkey, India, Thailand, Mexico...etc for their hair transplants.
Will a hair transplant hurt?
Although hair transplants may look like a particularlyunpleasant or painful experience is actually very little discomfort involvedwith the surgery itself. Hair transplants are always done under an anesthetic so there's absolutely zero pain during the treatment itself. Many people actually relate the process as being very similar to going to the dentist for filling or root canal. Mild pain can persist over the course of postop treatment but he generally just resumes for a few days.
Who can deliver the best surgery?
It's usually best to consider working with surgeons who have and IAHRS certification or international alliance of hair restoration surgeons recognition. IAHRS can often deliver recommendations for the best surgeons in each particular area.
Is this scarring noticeable?
Any type of hair transplant will require the use of incisions throughout the scalp. There can also sometimes be a small scar from the donor area towards the back of the scalp. Asking to look at photos of the surgeon's previous work will help you to see roughly how bad the scarring could be. In most cases an experienced professional can limit the look of scarring and noticeable marks from the surgery.
How long does it take for the hair to grow?
In most cases hair growth will start within eight months and you can start to see a full effect from the hair transplant after a full year. The initial signs of growth can usually start between 3 to 4 months after the surgery.
Are the results permanent?
The hair follicles that are transplanted are generally the ones which are genetically resistant against the symptoms of baldness. As long as you receive hair loss treatment later in your life after the symptoms of balding have started to subside, you can have a better chance at permanent results.
While everyone know you've had surgery?
If you want to limit the chance that people may find out about your surgery it's important to give at least three weeks of healing as the surgical area will be affected and red just after surgery. After around a month of healing it can look far less noticeable. You could consider wearing a hat while time passes or opting for some extra time off if possible.
How long should I rest after surgery?
It's recommended to rest for at least a few days after surgery so that your body can recover. Trenton to over exert yourself and limit sexual activity, running in the gym for around 10 days after surgery.
Is it possible to lose more hair as a result of surgery?
There is always a chance of shock loss which happens when the hair is weak and miniaturizing after the surgery. As long as the surgeon is choosing the correct hair follicles and performing the surgery well it's possible to minimize the chance of this happening however.
Will I need another hair transplant?
The need for another transplant really depends on the individual. With a solid foundation surgery and working to potentially bolster results with drug therapy, you can improve the stability of the hair that was transplanted as well as prevent further loss. Getting a hair transplant earlyon in your 20s or early on in life could lead to needing long-term transplants as hair loss can be progressive.
Hair Transplant in Delhi, Hair Replacement Delhi, India, Hair Restoration in Delhi,Hair Implant in Delhi,Hair Loss Treatment in Delhi,Hair Surgery in Delhi,Hair Transplantation in Delhi,Hair Transplant Cost in Delhi, Hair Transplant Procedure in DelhiHair Transplant in Mumbai, Hair Replacement Mumbai, India, Hair Restoration in Mumbai,Hair Implant in Mumbai,Hair Loss Treatment in Mumbai,Hair Surgery in Mumbai,Hair Transplantation in Mumbai,Hair Transplant Cost in Mumbai, Hair Transplant Procedure in Mumbai, Hair Transplant in Chennai,Hair Transplant in Bangalore,Hair Transplant in Kolkata,Hair Transplant in Hyderabad,Hair transplant centers in Bhopal, India, Hair transplant centers in Rishikesh, India, Hair transplant centers in Goa, India, Hair transplant centers in Vijayawada, India, Hair transplant centers in Guwahati, India, Hair transplant centers in Mangalore, India, Hair transplant centers in Mohali, India, Hair transplant centers in Faridabad, India, Hair transplant centers in Tirupati, India, Hair transplant centers in Jamshedpur, India, Hair transplant centers in Vapi, India, Hair transplant centers in Nellore, India, Hair transplant centers in Agra, India, Hair transplant centers in Haridwar, India, Hair transplant centers in Ranchi, India, Hair transplant centers in Rohtak, India, Hair transplant centers in Panchkula, India, Hair transplant centers in Siliguri, India, Hair transplant centers in Secunderabad, India, Hair transplant centers in Nagercoil, India, Hair transplant centers in Chinchwad, India, Hair transplant centers in Moradabad, India, Hair transplant centers in Durgapur, India, Hair transplant centers in Jaipur, India, Hair transplant centers in Nagpur, India, Hair transplant centers in Jaipur, India, Hair transplant centers in Lucknow, India, Hair transplant centers in Ludhiana, India, Hair transplant centers in Patna, India, Hair transplant centers in Gurgaon, India, Hair transplant centers in Visakhapatnam, India, Hair transplant centers in Indore, India, Hair transplant centers in Vadodara, India, Hair transplant centers in Noida, India, Hair transplant centers in Coimbatore, India, Hair transplant centers in Dehradun, India, Hair transplant centers in Jalandhar, India, Hair transplant centers in Kochi, India, Hair transplant centers in Ahmedabad, India, Hair transplant centers in Pune, India, Hair transplant centers in Chandigarh, India, Hair transplant in Chandigarh, India, Hair transplant Doctors in Chandigarh, India, Hair transplant cost in Chandigarh, India, Hair transplant centers in Surat, India, 10 Best Hair Transplant Centers in Jaipur,Tirunelveli, Gorakhpur, Nashik, Pimpri, Kalyan, Thane, Meerut, Nowrangapur, Ghaziabad, Dombivli, Rajkot, Varanasi, Amritsar, Allahabad, Teni, Jabalpur, Haora, Aurangabad, Shivaji Nagar, Solapur, Srinagar, Coimbatore, Jodhpur, Madurai,