Dr.Madhu's Advanced Hair Transplant Center, Hyderabad
Dr.Madhu's Advanced Hair Transplant Center,Hyderabad is really advanced in all aspects of hair transplantion and is consistently producing best results. It is not only catering to the people of Hyderabad and NRI's & foreign nationals also at affordable cost. This centre is not only for hair transplants but also provides medical treatment to prevent hair loss and further progression of baldness.
It is located in the heart of Hyderabad "CITY OF PEARLS",jubilee hills hydrebad, INDIA. We have an ultra modern hospital with sophisticated equipment run by efficient team of highly qualified and skillful Hair transplant surgeons, providing state of the art Hair transplant surgery.
Ours is a Unique Centre which is one of its kinds in India, aims to provide advanced treatment for all kinds of hair problems in both men and women and medical treatment for hair & scalp diseases and disorders.
We offer Top Quality hair transplants for both men and women, adapting advanced techniques and technology utilizing the most sophisticated instruments available, the results of which can be comparable to any other best centers in the world.
Dr. Madhu - Advanced Hair Transplant Center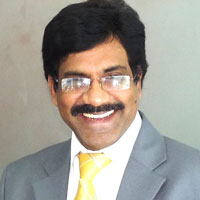 Dr. Madhu, the first doctor to introduce many advanced techniques of hair restoration surgery to India, is primarily a Dermatologist and Dermato surgeon. He has been performing hair transplant surgeries for the past ten years. Following the advent of newer techniques and advancements in the field of hair restoration surgery across the world, he developed passion towards hair restoration treatments and involved himself by learning the most sophisticated and latest techniques adopted across the world from the stalwarts of hair restoration surgery. Presently, he has dedicated himself exclusively in hair restoration surgeries leaving his dermatology and cosmetic dermatology practice to the associate dermatologists of his team.

He is the India's FIRST hair transplant surgeon to have the honor of highest certification available in the world in hair restoration surgery, which was awarded by the ABHRS (American Board of Hair Restoration Surgery), after successful completion of the exam conducted by that board. Now he can be called as a "Diplomate of American Board of Hair Restoration Surgery". He is also an active member of "International Society Of Hair Restoration Surgery" (ISHRS).

A very dedicated and gifted surgeon who is passionate about his work always striving to achieve excellence in the field of Hair restoration. His expertise involves in artistic designing of hair line which mimics the natural hairline, as he is an innate artist and has numerous successful hair transplant surgeries to his credit.
Why Dr.Madhu's method is superior?
Dr.Madhu's slivering technique is superior because he dissects under mantis microscope and slivers in longitudinal manner under immersion which is considered to be the best method of slivering.
One should note that slivering is very important step in transplantation for minimising transection of grafts. Silica gel is a sterilisable one and superior when compared to the wooden spatulas.
Dr.Madhu indigenously developed a cutting board and cutting surface which can be sterilised easily and effectively by autoclaving.
Dr.Madhu developed a far superior method of dissection by which transection (wastage) is negligible and blood loss is also negligible. This technique is appearing superior to four hook method of dissection which Dr.Madhu used to practise earlier.
Dr. Madhu's method of closure is also very superior as he further modified and developed a revolutionary method called "Triplephytic" closure. It is a combination of Trichophytic closure & triple layered closure. With this Dr.Madhu's patients are almost are enjoying the finest possible scars when compared to the older versions.
Dr.Madhu adapts power assisted FUE and uses very small sized punches.
Dr.Madhu's incisions are close like very fine lines without any tension on the wound and they will get healed with almost negligible scars.
Dr.Madhu's method is almost painless & blood less method because he adapts all pain minimising techniques.
Dr.Madhu's method of slit making in the donor area is also far superior and he makes pre-made slits in the donor area by using a best instrument giving good density.
Dr.Madhu adapts far superior & very safe methods of implantation as he implants more effectively by inculcating all the superior modes of implantation advocated by the stalwarts of the world by modifying the earlier methods and developed most advanced method of implantation which may be unique of his own. Because of this one can expect minimal trauma to the graft & maximum survival rate.
Furthermore this modified technique also made him to implant very fast and he may be the fastest in the world to complete a given surgery without compromising the quality and in reality by improving the quality of transplantation.
Real People Real Results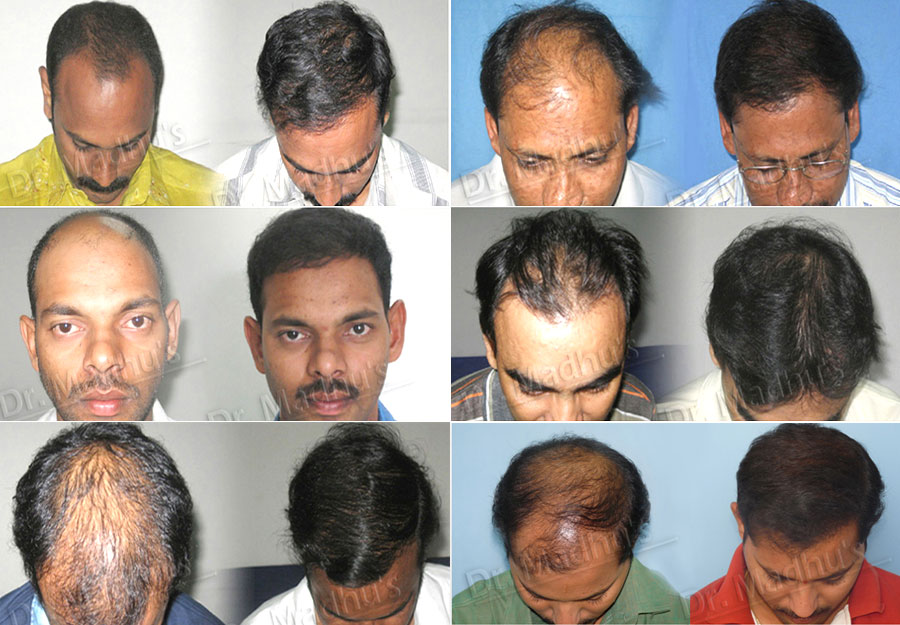 CLICK HERE TO GET YOUR FREE CONSULTATION NOW
Hair transplantation
Hair transplantation means, transplanting live hair roots onto the bald area.(RECIPIENT AREA). These transplanted hair roots behave in the same manner as the hair from the area where they are extracted. These transplanted hairs after growth can be cut or trimmed regularly. These can be shampooed or dyed if required. These hairs don't require any medicines to maintain the growth as it occurs naturally and permanently. Even after complete shaving or tonsuring, these hairs will grow back and tend to do so for the rest of the life.

Transplanted hair roots should be bald resistant. And these bald resistant hair roots are usually present on the back or sides of the scalp (DONOR AREA).

The density of the hair depends on the number of grafts present per sq. cm. Each sq. cm area of normal scalp contains more than 80 follicular units. Hence, in the bald area, more the number of grafts transplanted the denser the appearance. More than 40 follicular units per sq. cm should be implanted to give the natural look. Transplanting around 40 FU s/sq. cm is not an easy task as it requires lot of technical skill. This particular skill of transplanting more number of grafts is called Dense Packing.

The process of transplantation is done in sessions if the area to be covered is more.. Transplanting more number of grafts at a single session can be termed as Mega and Super Mega sessions depending upon the number of grafts transplanted.

Mega session means transplanting >2000 follicular units (3500 follicles in a single session and super mega session comprises of transplanting > 2,800 follicular units ( 5000). A session can be termed as Giga Session, if >5000 follicular units ( 8000 follicles) have been transplanted at one go.
OUR CLINIC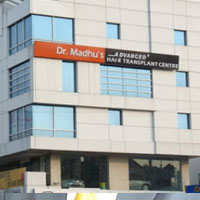 We have an exclusive seminar hall wherein we give group counseling and multimedia presentations to the patients. We also have one-one consultation rooms to address your private concerns. Our surgical theatres are no way inferior to any other best centers in the world. It has all the latest gadgets which can fascinate even a good hair transplant surgeon. Our doctors have exceptional capabilities to handle the patient as comfortably and as safely as possible delivering top quality hair transplants, the results of which can be comparable to the results of any other best centers in the world.

We have a big team of highly qualified doctors who are ISHRS members and practice all the latest techniques in the field of Hair restoration. All these doctors are well trained to handle any emergencies during the surgery. (ACLS & BLS recommended by American Heart Association).

Dr.Madhu is the India's FIRST hair transplant surgeon to have the honor of highest certification available in the world in hair restoration surgery, which was awarded by the ABHRS(American Board of Hair Restoration Surgery)

We have a team of efficient junior doctors that counsels the patient initially.

Our centre is well equipped with all the sophisticated equipment necessary to carry out all the latest techniques in Hair transplantation procedure.

We also have a big team of well trained and highly skilled surgical assistants that has mastered the art of dissection and implantation by using latest equipment like Stereo microscopes & Mantis microscopes.

We adapt all the latest techniques in the field of Hair restoration surgery to provide you the following facilities:
Ultra refined follicular unit grafting
Conduct Mega, Super Mega or Giga sessions.
Trichophytic closure.
Dense Packing
Natural Hairline design.
Open method of dissection and Non-touch technique of implantation.
FUE
Moustache & Beard reconstruction.
Eye lash & Eye brow restoration.
Cosmetic dermatology.
We, as a whole, offer you a plethora of services implementing all the latest techniques in Hair restoration in a much amicable and warm ambience that leaves an indelible impression on you.
Are You Suitable Candidate
Young patients especially in early stages of baldness can be treated medically to prevent further progression of baldness and also to promote hair growth to some extent. Sometimes, even in the younger individuals hair transplantation is recommended depending upon their psycho-social obligations like marriage, depression, etc.

Age is not a bar for Hair Transplantation as it can be done even at the age of 80, provided the constitution of the individual is healthy. In general, hair transplantation is advisable only when the person is medically fit for the surgery. Since Hair Transplantation is based on "Donor Dominance theory", a good donor area is a pre-requisite for better results.

"Quality of the donor area always determines the outcome" Quality of the donor area is determined by:

Density of the follicular units per sq. cm (> 80 units per sq. cm)
Thickness of Hair shaft.
Nature of hair – Curly (better)
Laxity of the scalp.
Other Features:
Big donor area and lesser recipient area.
No medical contraindications.
No bleeding disorders.
No abnormal scarring disorders – Keloidal tendency.
CLICK HERE TO GET YOUR FREE CONSULTATION NOW