Anagen Clinic - Hair Transplant in India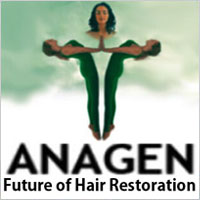 Anagen Clinic
India

» FUE HAIR TRANSPLANT Price-INDIAN RUPEES 25 (0.38US$) per graft-that includes stemfue(dermal papilla cell injection for virtually scarless donor ,potential donor regeneration, better graft survivaland PRP).

» We are known for hairline design,dense hair transplant,we offer instant fue-same time extraction of hair grafts and simultaneous implantation).*we also offer training in hair restoration to docs rom across the globe


Anagen Clinic
Anagen Clinics Pvt. Ltd, is a single speciality hair restoration chain of clinics across india having its register head office @Mumbai. Our USP is associate Biotech Lab for Stemcell Research (clinical trial starting soon) for hair regeneration. Till the time Stemcell Regeneration becomes a reality. within the ethiical & legal framework, we are probably the only clinic in the world which uses Fusion of Biotech with hair restoration.
Our Team
The company has full time surgeon (20 year plus experience), Consulting plastic surgeons, Consulting dermatologists, full time biotech consulting pathologists, Team of technicians and nursing assistants with 5 to 10 years experience in fue hair transplants. Also have consulting biotech, Molecular biologists, Immunologists.

We have a cord blood banking lab tie up, for research and development, including a blood bank associate for advanced PRP. We also have ....... International tissue engineering hair researcher on our panel,




Why Us
Why should you choose ANAGEN clinic for your hair thinning and hair transplant......
PROBABLY ONLY CLINIC IN THE WORLD OFFERING FUSION OF BIOTECHNOLOGY WITH FUE HAIR RESTORATION FOR BETTER GRAFT SURVIVAL,POTENTIAL DONOR REGENERATION,VIRTUALLY SCARLESS DONOR...
SPECIAL FEMALE HAIR TRANSPLANT UNIT FOR FEMALE FUE,EYEBROW,EYELASH,SCAR,BURN TRANSPLANT. ADJACENT BUILDING HAS COSMETIC SURGERY CLINIC.
Our team have biotechnologists, pathologists for the same.
Use of biotech reduces or eliminates post FUE white dots or micro scarring
We are one of the few clinic who use latest Korean ,pen implanters, thus eliminating the need to create surgical blade lateral slits into your recipient scalp.
We use automated hair extraction machines from cole, hairs, Ellis and few Korean companies, so that we can use different machines for different individuals and areas of scalp.
We are probably the only clinic, who charge as per the number of grafts grown and not number of grafts implanted.
Our team travels once a year to USA, Europe, japan update with latest work and train our staff accordingly.
We immediately implant the grafts and not keep them long outside your scalp, to prevent drying and death of hair follicles.
We have a hair stylist as consultant, to help us design hair line , as per your age and face type. We have different scientific precise tools to make your hair line.
We have a surgeon , who specializes in pain management and wound healing.
Hair Transplant - Surgical Hair Restoration
Hair Transplantation involves removing individual hair follicles from a donor site (typically the back or the sides of the head) where hair is more resistant to thinning and balding. These groups are transplanted into areas of thinning and baldness, where they will continue to grow naturally.
Candidates for Transplants
Most men in the early to middle stages of hair loss tend to be good candidates for hair restoration surgery. While it's the only permanent solution to hair loss, it's not for everyone. Here are a few tips and resources to help you determine if its a good option for you.

The best candidates for hair transplant surgery are men who suffer from genetic hair loss or Male Pattern Baldness (MPB), the most common type of hair loss. Men with MPB typically experience a receding hairline, hair loss at the crown (the top of the head), or both. However, even men with significant levels of hair loss usually have healthy hair at the sides and back of their head. This hair is genetically programmed to grow, regardless of whether you are experiencing hair loss elsewhere.
The Transplantation Procedure
A physician removes a strip of hair from the back of the head, where follicles are genetically resistant to balding.
Using precision and industry-leading stereo microscopes, the donor section is dissected into individual hair follicles.
Recipient sites (micro-incisions) are then created in the areas of concern.
The follicles are artistically placed to match the direction and angle of your natural hair growth.
Medical Considerations for Hair Restoration Surgery
Only a trained hair tranpslantation physician can tell you whether or not you are a good candidate for hair transplant surgery. If you would like to consult with your own physician or dermatologist before meeting with our affiliated physicians, we recommend that you review the Questions to ask Your Doctor page. During your consultation, a doctor will determine the extent of your hair loss and the amount of hair available in the donor region. If you are a good candidate, the physician will make a recommendation about the number of grafts and sessions you will need, and advise you about the coverage you will be able to achieve.