DK Hair Klinik.
Since 2002 we have been working in the field of aesthetics, dermatology and cosmetology.

When we were first established, we had a total staff of 2 people in our clinic including myself; today we have more than 20 employees and provide service to patients from all over the world.

Most of our patients coming from abroad are hair transplant patients.

During 16 years of work we have gained a great deal of experience in both relations with patients and procedures management. Until today we have beautified or treated the aesthetic appearance of more than 10,000 people in our clinic.

Our clinic is equipped with state-of-the-art devices and we are closely following the scientific developments in the field of hair transplantation.
About Dermatologist Dr. Meltem Şentürk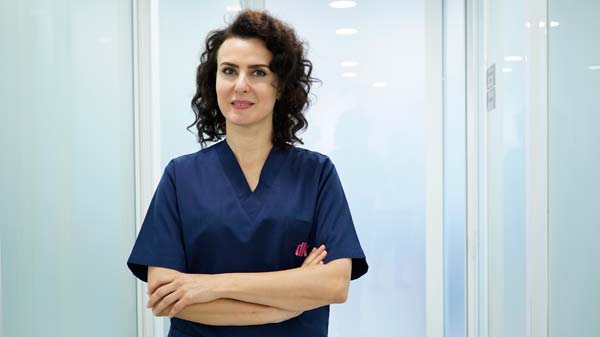 Dr. Meltem Şentürk became a medical doctor in 1994 and then a dermatologist in 2000, working at Antalya State Hospital from 2000 until 2009.
She was awarded the Certificate Dermato-Cosmetic Sciences, a widely recognized qualification across Europe, upon successful completion of her education in advanced dermatological procedures at Vrije University, Belgium in 1998.
After founding the DK Klinik in 2002, Dr. Meltem Şentürk resigned from her job at Antalya State Hospital in 2009 to devote her full energy to the DK Klinik.
Dr. Meltem Şentürk is a member of the International Society of Hair Restoration Surgery (ISHRS), a leading authority on hair loss treatment and restoration around the world. She is also an active member of the Turkish Dermatology Association and the Mediterranean Regional Dermatology Association.
Our Active Memberships
International Society of Hair Restoration Surgery (ISHRS)
European Academy of Dermatology and Venereology (EADV)
European Society of Cosmetic & Aesthetic Dermatology (ESCAD)
Turkish Dermatology Association (TURKDERM)
SERVICES
FUE Hair Transplant
While more than half of the men worldwide experience hair loss in a certain period of their lives, the most common type is androgenic (male-pattern) hair loss from part of the head that is characterized with permanent loss of hair.

In females, visible loss of hair up to 40% occurs before 40 years of age.

In permanent hair loss cases, the only most effective and permanent solution is a hair transplant.

Hair transplant is a minimally invasive procedure where hair from the donor site is harvested and then implanted to the balding part of the scalp.

Hair transplant is a surgical intervention. The hair harvested from the back of head (nape area) is genetically resistant to balding. The hair transplanted from the donor site carries the characteristics of the person's natural hair and will continue to grow throughout the life.

The research and development efforts in this field has now shortened the time required for hair transplants, along with decreased costs and natural appearance with almost undetectable scarring following the hair transplant surgery.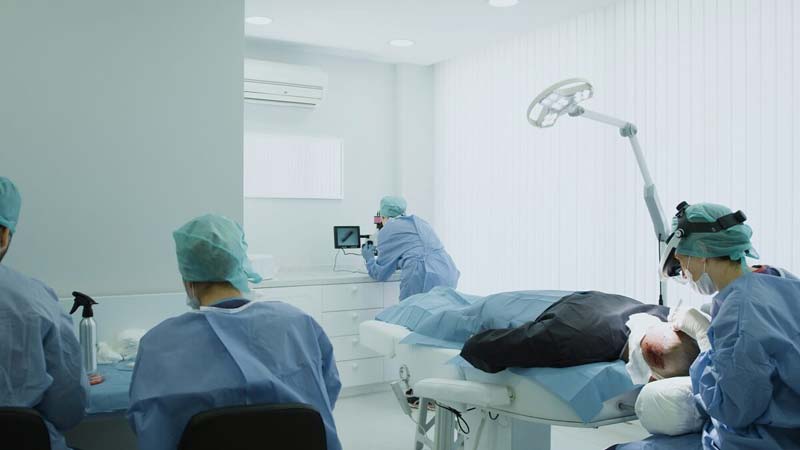 Facial Hair Transplant
People may experience facial hair loss or thinning due to genetic factors, burning or injuries, surgical scars, wrong use of laser hair removal and electrolysis.

Such individuals can have facial hair transplants in the patches of the skin with little or no facial hair.

The process can both be performed in a specific small area and all different areas such as beard, mustache, and eyebrows.

As in hair transplants, grafts containing hair follicles are harvested from the donor site in the back of the head for a facial hair transplant.
Hair Micropigmentation
Once we begin to lose hair and the degree of balding increases with age, this ultimately motivates most of us to look for a solution. While certain shampoos or medications used to prevent the hair loss may prove effective to some extent, it is impossible to restore hair to its original state through these measures only.

Hair simulation is suitable for the persons with all types of hair loss or thinning hair or those who received hair transplant with the FUT technique (a relatively old hair transplant method) and are now uncomfortable due to the scarring it left; or those who have hair loss in the scalp, beard or mustache due to burning or injury; or those with bald patches due to scalp ringworm (tinea capitis) or people with very limited healthy hair follicles in their donor site.

Besides, in the cases where hair transplant fails to yield the desired outcome due to limited hair reserve in the donor site, this method can be applied to give an appearance of greater hair density.
How much does a hair transplant cost?
Our prices are fixed. We have a single price. Our all-inclusive price is 2000 GBP.
This price includes the following:
PRP hair transplant operation. We can use Choi implanter pen or channel technique depending on the availability and personal characteristics of a patient.
Free transfer between the airport, hotel and clinic.
3 day accommodation in a boutique hotel with a sea view (breakfast included), which is very close to our clinic. In some cases we need to divide hair transplantation procedure into 2 sessions in 2 days, in which case the patient has to stay for 4 days. We also pay for this extra day.
We also provide products such as shampoos and medicines for free when our patients return to their homes.